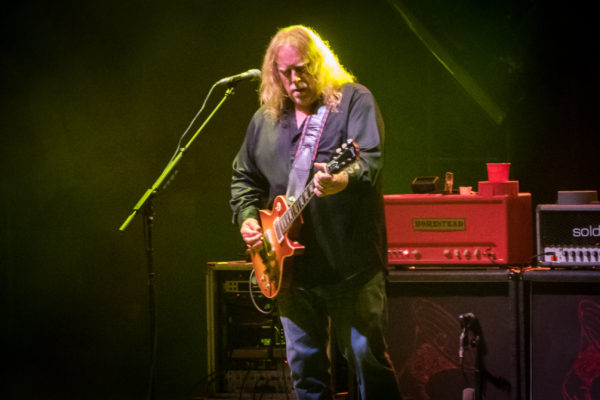 [photos by Jill from For The Love of Brooklyn]
Now in its 12th year, Mountain Jam has established itself as a destination event for a wide variety of artists from a large array of styles. And yet over those dozen years, festival co-founder Warren Haynes has performed with Govt Mule for every single year — generally in the featured spot on Friday or Saturday night. This year, the Mule played the headline set on Friday after an abbreviated set by Wilco (here).
Since its his weekend, Haynes' Govt Mule was unlimited in their time to play and performed a nearly three hour set that went late into the night. On display were the standard special aspects of the Mule Mountain Jam sets, including special guests, extended jam segments, and a plethora of covers. For this particular show, the highlight was most certainly when the Mule was joined by Marcus King and the horn section from his band for a blistering version of the Tower of Power classic "What Is Hip" that spanned a full seventeen minutes of superb multi-genre jamming.
Warren Haynes is currently on tour playing solo shows in Europe before returning to the US for several nights with the Garcia Symphonic Celebration before Govt Mule returns to touring in the Fall. All dates here.
I recorded this set in the same manner as the Wilco set and the quality is equally outstanding. Enjoy!
Download the Complete Show [MP3] / [FLAC]
Stream the Complete Show:

Govt Mule
2016-06-03
Mountain Jam
Hunter NY
Digital Master Recording
FOB Audience
Neumann TLM 102s > Sound Devices 744t > 24bit 48kHz wav > Soundforge (post-production) > CDWave 1.95 (tracking) > TLH > flac (320 MP3 and tagging via Foobar)
Recorded and Produced by nyctaper
Setlist:
[Total Time 2:42:12]
01 Sweet Leaf [Black Sabbath]
02 Yer Blues [Beatles]
03 Thorazine Shuffle
04 Funny Little Tragedy
05 Rebel Rebel [Bowie]
06 Larger Than Life
07 Kind of Bird
08 Captured
09 Stage Fright [The Band]
10 Hunger Strike [Temple of the Dog]
11 Dear Mr Fantasy [Traffic]
12 Hunger Strike Reprise
13 Painted Silver Light
14 Frozen Fear
15 Dyer Maker [Zeppelin]
16 Mule
17 What Is Hip [Tower of Power]
18 Hope She'll Be Happier [Bill Withers]
19 Game Face
20 Mountain Jam
21 Game Face Reprise
22 I'm a Ram [Al Green]
23 [encore break]
24 Soulshine
If you download this recording from NYCTaper, we expect that you will PLEASE SUPPORT Govt Mule, visit their website, and purchase their official releases from the Mule Store [HERE].