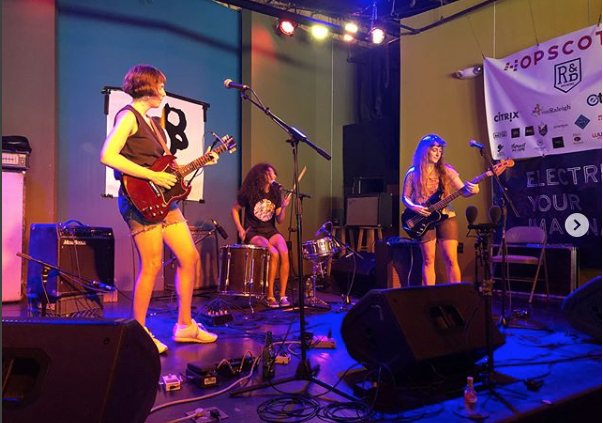 [Courtesy of Dave Schwentker]
I should possibly apologize to Rosali Middleman, one of the three Long Hots, for referring to her guitar playing as "feral" in last year's review of this band's Three Lobed / WXDU show, their third ever. If you've heard her other work, particularly her outstanding latest record Trouble Anyway, you wouldn't necessarily know it was the same person as the one shredding on these scuzz-rock numbers. It was more a statement the style of her guitar playing for this band than the, you know, quality. But I digress. A year later, Long Hots continue to be one of Philadelphia's best up and coming exports. The band's gritty, garage-style approach recalls Philly brethren Spacin' and Purling Hiss, and like those bands, the Long Hots can make it feel like a 3 a.m. rager in some hopped-up dirtball's basement even if they're actually playing a day show in a much-nicer-than-average local club. This five-song set almost doubled last year's set in length and at least matched it in intensity, showing us new songs that (one day?) could fill out a full LP. As for now, Long Hots remain "Philadelphia's most anticipated band" in that respect, as they continue to hone their live chops. You can catch another flavor of that on the band's sole release, the Monday Night Raw cassette, which is exactly what it sounds like.
I recorded this set with a blend of onstage Schoeps microphones, a pair of mics in the audience, and a soundboard feed. It's a fun recording. Enjoy!
Download the complete set: [MP3/FLAC/ALAC]
Long Hots
2018-09-07
Three Lobed / WXDU Annual Rite of Summoning
King's
Hopscotch Music Festival
Raleigh, NC USA
Recorded and produced by acidjack for nyctaper.com
Schoeps MK4V (onstage, DFC, PAS)>KC5>CMC6 + Soundboard + Behringer C2 (FOB, DFC)>>Zoom F8>Adobe Audition CC (align, mix down, fades, normalize)>Izotope Ozone 5 (EQ, effects)>Audacity 2.2.2 (track, amplify)>FLAC ( level 8 )
01 Nickel and Dime
02 Boogie Trance
03 Mama
04 Die Die Die
05 One Chip
Support Long Hots: bandcamp