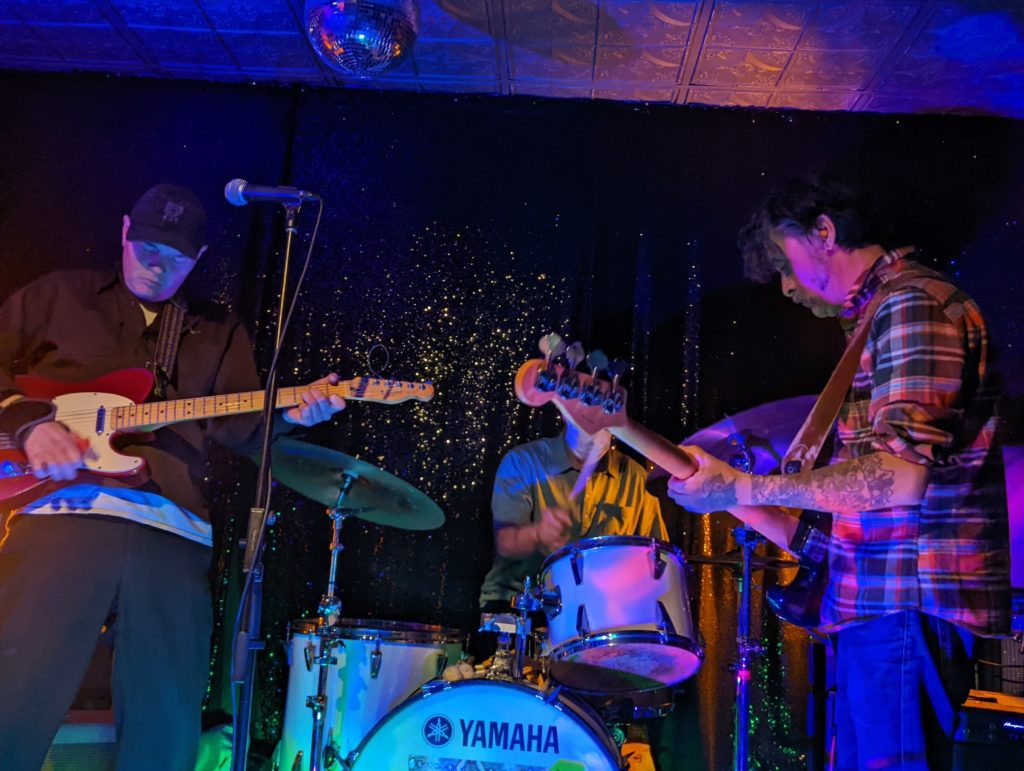 Much has changed in Kingston since the start of Covid. Many of the long-standing hubs of the community (RIP BSP, Boitson's, Tony's) sit empty while revitalization and housing prices march onward. Tubby's, thankfully, has not only weathered the storm, but seems to be steadily gaining steam.
At its core Tubby's is a local hang. On any given evening it may be the gathering spot for local members of the LGBTQ+ community, Simpsons fans, Deadheads, Goths or just folks looking for a cold beer after work. This beautiful Spring evening was a double bill with Mountain Movers and Wet Tuna, a night for the heads. 
Mountain Movers have appeared on this website several times over the years, and I am happy to add another recording to the list. The New Haven CT quartet pulled from their entire catalog including several tracks from their excellent 2021 release "World What World". The set ended with a particularly transportive 10-minute workout of "Unknown Hours" exploring all the corners of noise, psychedelia, atmosphere, and Rock they are known for. 
I recorded this set from my normal spot atop the riser next to the soundboard with my MBHO mics and a mono board feed from Tubby's FOH engineer Brian. I am quite happy with the results!
Mountain Movers
2022-04-30
Tubby's
Kingston, NY
Recorded and Produced by Kliked
Source:
MBHO440 + SDB> SoundDevices MixPre3> SD (24/48)> Adobe Audition/izotope 9> Audacity> FLAC (lvl8)> Mp3Tag
Thanks to Tubby's FOH engineer Brian for the board patch!
Hudson Valley Jam
Bodega On My Mind > The Sun Shines On The Moon
I Wanna See The Sun
Then The Moon
Flock Of Swans
Way Back to the World
Unknown Hours
Movers:
Dan Greene: guitar, vocals
Rick Omonte: bass
Kryssi Battalene: lead guitar
Ross Menze: drums
Please support Mountain Movers and visit their Bandcamp page!