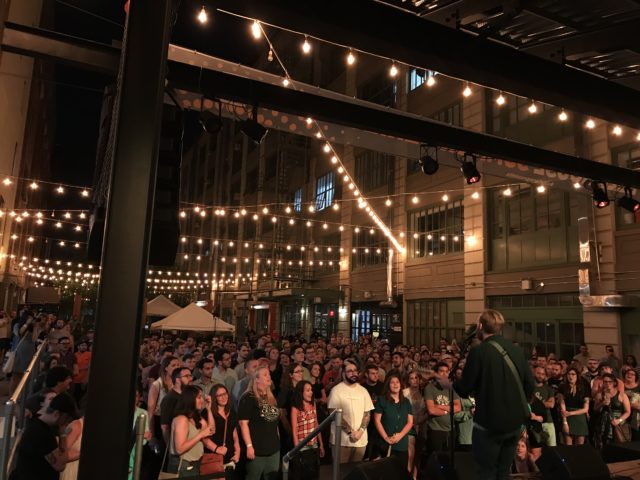 [photos by AJ Tobey]
There was a guy in the crowd at the Kevin Devine show at Industry City on Friday who was wearing a "STILL EMO" t-shirt. If by "Emo" we mean an artist who writes candidly about politics, chemical abuse, interpersonal struggles and triumphs, and love, then yeah I guess Devine's music is technically "Emo". But as we've witnessed in following this superb artist and person for a decade, Kevin Devine is a uniquely honest and passionate performer who makes his audience believe, and rightfully so, that's he in it with us.
Industry City is essentially a series of re-purposed factories that now house a complex of shops, restaurants, bars, retail stores and offices. In the center is a huge courtyard where Bell House has chosen to host its first annual Summer concert series. This was our first visit to Industry City and we were quite impressed. The setting provided a relaxed vibe and pleasant surroundings for enjoying an early evening Summer concert from one of our favorite artists.
Kevin Devine was joined by two members of the Goddamn Band for this show and the three were in sync all night. Devine released his 9th and most recent studio album Instigator in 2016, but on this night he chose democratically from his deep catalog to provide a lengthy set of material that both opened and closed with Kevin playing intense solo numbers, the apt "Brooklyn Boy" to open and personal favorite "Ballgame" to close. As per usual, there was ample banter with the crowd including multiple references to this being the closest the artist has ever played to his home in Sunset Park. Perhaps buoyed by the surroundings or the fact that there hasn't been a full Goddamn Band show in New York for quite some time, the trio delivered a memorable night of music that clearly made the fans wish for more of these perfect nights.
I recorded this set with the outdoor-friendly Neumann large diaphragm cards mounted at the soundboard. While the audio was not enhanced by the stage being in-between two large brick buildings, the excellent FOH work by Rob certainly made the "room" work well. The mics were mixed with a well-balanced feed to create an excellent mix and the result is a superb recording. Enjoy!
Download the Complete Show [MP3] / [FLAC]
Stream the Complete Show (minus banter):

Kevin Devine
2018-08-23
Industry City
Brooklyn NY
Digital Master Recording
Soundboard Audience Matrix
Soundboard [Engineer Rob Sutton] > Neumann TLM 102s > Sound Devices 744t > 24bit 48kHz wav > Soundforge (post-production) > CDWave 1.95 (tracking) > TLH > flac (320 MP3 and tagging via Foobar)
Recorded and Produced by nyctaper
Setlist:
[Total Time 1:38:04]
01 [introduction]
02 Brooklyn Boy
03 Off Screen
04 The First Hit
05 Between the Concrete and Clouds
06 No Time Flat
07 No Why
08 Instigator
09 Magic Magnet
10 [yesterday's bird]
11 Bubblegum
12 Bloodhound
13 I Can't Believe You
14 [never bird]
15 Little Bulldozer
16 You Brushed Her Breath Aside
17 She Can See Me
18 [Bad Books]
19 Just Stay
20 I Could Be With Anyone
21 [band introductions]
22 No History
23 Redbird
24 Cotton Crush
25 Brother's Blood
26 [MDA Dance]
27 I Was Alive Back Then
28 [thanks]
29 Ballgame
PLEASE SUPPORT Kevin Devine: Website | Buy Music | Bandcamp