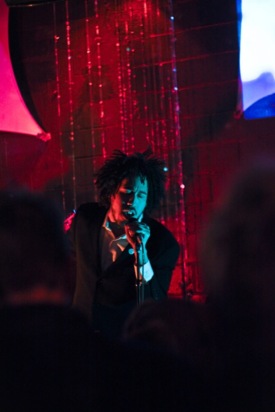 [Midnight Masses at Glasslands. Photo courtesy of Impose Magazine]
Midnight Masses closed out a monthlong rotation at Union Pool with a special night that featured two of their members reuniting with their old band, …And You Will Know Us By the Trail of Dead (which should be posted later this week). This band continues to get stronger and stronger – frontman Autry Fulbright's vocals have never sounded better or more heartfelt, and the band's multilayered sound, including what seems to be almost the Brooklyn standard now of multiple drummers (including, at times, Fulbright) is epic. Several of the songs in this set were spine-tingling moments (including a beautiful duet with Sara Lucas of openers Callers), and could not have been framed better than by the intimate and welcoming Union Pool concert room. Fulbright makes no secret of the source of the music's often-dark subject matter, but that shouldn't fool you – Midnight Masses are a fantastic time live.
I recorded this set with a combination of a stereo soundboard feed and the Beyerdynamic supercardiod microphones clamped to the left side of the soundboard on the balcony rail. The sound is excellent. Enjoy!
Direct download of MP3 files (HERE).
Download the Complete show in FLAC [HERE].
Midnight Masses
2010-02-24
Union Pool
Brooklyn, NY
An acidjack master recording
Recorded and produced by acidjack
Hosted at nyctaper.com
Equipment: Stereo Soundboard feed + Beyerdynamic MC950>Edirol R-44 (24/44.1)
Position: Clamp to left of SBD on balcony rail
Mastering: 2×24bit/44.1kHz WAV>Audacity (mixdown, smooth peaks, set fades, tracking, normalize each channel)>FLAC ( level 8 )
Tracks
01
02
03
04 The Sound of Silence
05 banter
06 Preacher's Son
07 There Goes Our Man
08 banter
09 Heaven
10 banter
11
12
If you email nyctaper for access to this recording, we expect that you will PLEASE SUPPORT Midnight Masses, visit their MySpace page, and purchase their new EPs directly from the Team Love Records website (here).  You can also download the band's "Red Ribbon Song (For Those Who've Gone)" which benefits the National AIDS Fund and the Gay and Lesbian Alliance Against Defamation (GLAAD) from Bandcamp (here).