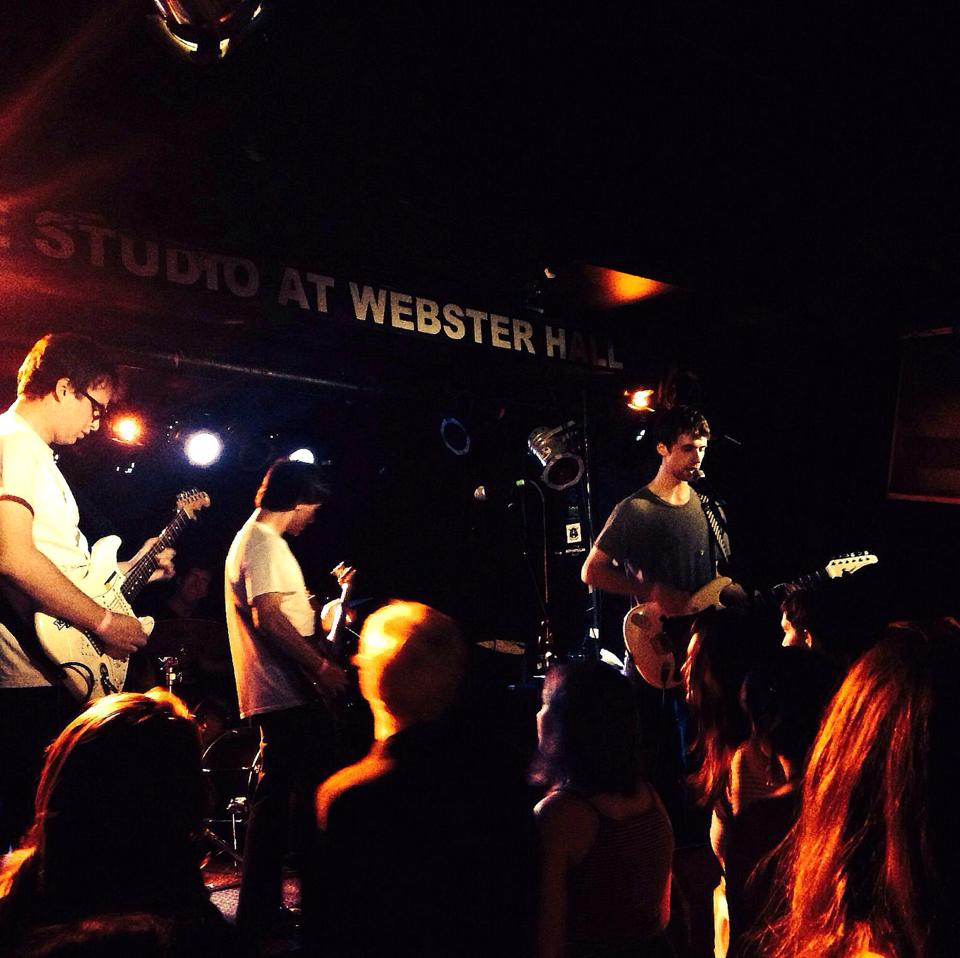 [Photo from the Studio at Webster Hall show by Stephen Balser, as featured on the band's facebook page]
The night of their self-titled and debut record release at Shea Stadium, Emilio Herce sat down with The Gradients, comprised of Charlie DY, Sammy Weissberg, Luca Ba, and J Boxer, to talk to us about their song writing process, touring down to SXSW, and the DIY ethic they bring to their live shows. Featured with this interview is a full live set for streaming and download. You can catch The Gradients' next show at Palisades this Thursday.
NYCTaper: All of you play in different bands. Do you ever had a moment when you're writing a song, but you decided, 'hey, maybe I want to save it for this other band'"?
Sammy: Not for me, this is the only band I write music in. I also play in Bluffing and Le Rug. But Bluffing's all John.
J. Boxer (John): Nah, I definitely know. There's definitely stuff that I write where I'm like 'this would be really weird for Gradients.'
NYCT: The Gradients have four songwriters, most bands have only one or two, so how does the song writing process work? Does everyone have equal input, or does someone bring in a skeleton and then lead in the process of building it?
Luca Ba: I mean, usually one or two people will have an individual thing that they bring in.
NYCT: Like a riff? Do you ever bring in a complete song?
Luca: Some people have.
Charlie: A lot of times it's a song that gets changed, like as a band we'll work on it. Also it's funny that you say that cause like, we have a lot of trouble naming our songs, and a lot of the time they wind up being labeled as whoever brought it in, like 'Sammy New,' or 'Charlie New,' or 'Luca New,' 'John New,' but I wouldn't say that any of those songs truly belong to that person.
Sammy: I think in this band you can't really bring in a song, and like anything is subject to change. Every song I've brought in has basically just ended up different.
NYCT: You guys are releasing a four track EP, each of you writing one song. Are those songs written yet, are you still working on them?
Sammy: We're playing two of them tonight. One is pretty close to being done. I guess the fourth one we haven't even started yet.
Charlie: Mine is in the lab.
NYCT: At what point do you feel comfortable performing a song. When it's fleshed out entirely?
Luca: I think often it's not.
NYCT: So the writing process happens on stage too.
J Boxer: We know we're not playing it the way it's going to be, the finished product or whatever, and there's kind fear or nervousness about it, but that's what you have to do.
Sammy: Just play it over and over again, that's kind of how I write songs anyway. Usually when I write something, I play it every day, like multiple times a day and over a long period of time things start to develop. I think that repetition is a good way to develop ideas, if you just have it in your ear.
J Boxer:  I feel good about the two new ones that we have.
Charlie: The first show that we ever played as a band, way before John was in the band, we got offered a show and we weren't ready, but we just played it.  We were just like 'why not, we were going to open the show.' It came together on stage, and I feel like that vibe carried out into our band in general. You know a lot of times, like honestly, we'll play a song, and the lyrics aren't completely finished, but they'll even grow from what we come up with, when we play it.
NYCT: Was this years South By your first tour experience as a band? How was that?
Luca: We became a family with the other members of Bluffing, Heeney and Slonk Donkerson. I'd say that those four bands are joined forever.
Charlie: It was a pretty magical time in Austin. I mean it was a great experience, and we played a lot of great shows, but it really almost felt like a musical vacation.
Sammy: It wasn't the most organized show.
Charlie: The last tour we went on was like totally just you know play, go to the next place.  Austin, we played a bunch of shows getting down there, and we got to Austin an we kind of went nuts. A lot of bonding and hanging out.
NYCT: Are you going to do anything differently in the studio this time around? Did you learn anything last time, that you're not going to do this time, or is there anything that you're going to bring over from the last record?
Luca: Ideally it won't take as long to come out, I would say.
Sammy: I think I learned a lot about overdubs, like what sounds good, and what doesn't and I couldn't really explain it any more than that, but there are things on the record that obviously bug me, so you're not going to be totally satisfied.
Download the complete show: [MP3] | [FLAC]
Stream the complete show:

The Gradients
2014-09-05
Shea Stadium
Brooklyn, NY USA
Exclusive download hosted at nyctaper.com
Recorded by Emilio Herce and Shea Stadium
Produced by acidjack
Multitrack digital soundboard>Adobe Audition CS 5.5 (mix down)>Izotope Ozone 5 (effects on individual tracks, compression, imaging, exciter)>Audacity 2.0.3 (fades, tracking, amplify, balance, downsample)>FLAC ( level 8 )
Tracks
01 Growing Pile>
02 Boxed In
03 [new song 1]
04 Gradients
05 [new song 2]
06 I'll Find Your Grave
07 In Perspective
08 Charlie 182
09 Shelf
10 Something to Blame
If you enjoyed this recording, PLEASE SUPPORT The Gradients by visiting their bandcamp page, where you can buy their debut album release.