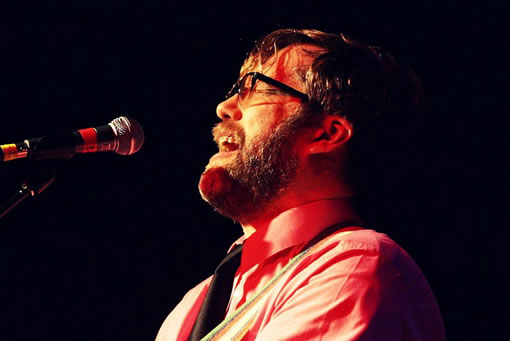 [Photo courtesy of bumpershine]
John Roderick is the distinctive voice of The Long Winters, as well as a good friend of Nada Surf.  Nada Surf had promised that their three-night run of NYC full-album performances would feature "special guests," and Roderick's appearance at The Bell House for the second of these gigs (which we also recorded) was the most welcome of all.  Although the rest of his band did not make the trip out from the Pacific Northwest, Roderick performed many of The Long Winters' most beloved songs as well as a new number, "Not Moving to Portland."  The acoustic setting highlighted Roderick's unique voice and his talents as a lyricist, as well as his great sense of humor!  Roderick closed out his set with Nada Surf as his backing band on "The Commander Thinks Aloud."
Like the Nada Surf recording, this recording was made with a combination of the DPA microphones and a stereo soundboard feed, for excellent sound quality.
Direct download of MP3 files (HERE). Download the Complete show in FLAC [HERE].
Stream the complete show:

The Long Winters (John Roderick solo)
2010-03-26
The Bell House
Brooklyn, NY USA
An acidjack master recording
recorded and produced by acidjack for nyctaper.com
Equipment: Stereo soundboard feed + DPA 4021>Edirol R-44 (24/44.1)
Position: ROC, mics at approx 11? from floor height, pointed at stacks
Mastering: 2×24bit WAV>Audacity (mixdown, adjust levels, slight compression, set fades, tracking, amplify each channel, downsample)>FLAC ( level 8 )
Tracks
01 Stupid
02 banter/false start
03 Honest
04 Seven
05 Pushover
06 banter
07 Not Moving to Portland [new]
08 banter
09 The Worst You Can Do Is Harm
10 banter
11 Cinnamon
12 banter
13 Ultimatum
14 banter
15 The Commander Thinks Aloud
If you email nyctaper for access to this recording, we expect that you will PLEASE SUPPORT The Long Winters, visit their website, and purchase their official releases from Barsuk records here.