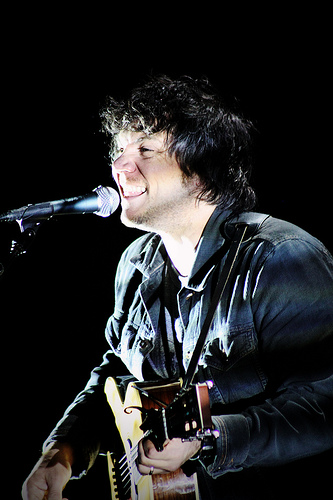 [Photos for nyctaper by Kate Ehle — many more here]
The Wellmont Theatre lies in the heart of Montclair, NJ, an upscale suburb of NYC that is so pretty it could even give a hardened Manhattanite a twinge of envy.  Despite not being a terribly rock-n-roll town, Montclair welcomed Wilco and its fans with open arms, and received a sprawling three-hour rock show in return.  In the land of Springsteen, Wilco seemed determined not to be outshined by the length or enthusiasm of the Boss' mammoth performances, and indeed, they got it right.  The show broke down into three distinct segments – a fiery electric set that kicked off with the one-two punch of "Wilco (The Song)" and "Bull Black Nova", followed by an acoustic set, and ending with another huge electric set, the highlight of which was the band's tribute to Alex Chilton when they played Big Star's "Thank You, Friends," which we have provided as an individual download below.  The almost entirely crowd-sung "Jesus, Etc." was also a fine moment of community in which – whether you came from nicest part of Jersey, the farthest corner of Brooklyn, or anywhere else – everyone was reminded why they wanted to spend this Friday night with this band.
I recorded this set dead front and center behind the band's sound booth with the 4-mic rig, with the hypers lower down toward the crowd and the DPA mics higher up but still well below the overhang of the balcony.   Although the venue had a boomy sound due in part to an underpowered house PA, the mix, with a little help from computer magic, is now crystal-clear and of excellent quality.  Enjoy!
Direct download of MP3 files (HERE). Listen to "Thank You Friends" (HERE).
Download the Complete show in FLAC [HERE].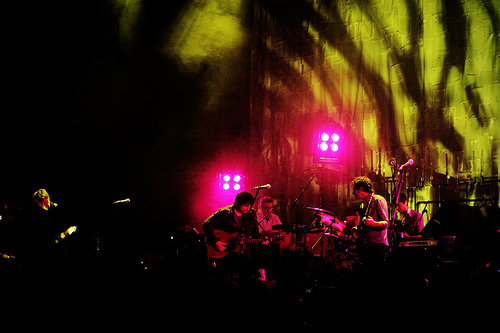 Wilco
2010-04-02
Wellmont Theatre
Montclair, NJ  USA
An acidjack master recording
Recorded and produced by acidjack for nyctaper.com
Equipment: DPA 4021 + Beyerdynamic MC950>Edirol R-44 (24/44.1)
Position: DFC, directly behind the board, DPA's at 10?, Beyers at 6.5?
Mastering: 2×24bit/44.1kHz WAV>Audacity (mixdown, EQ, set fades, tracking, amplify channels)>FLAC ( level 8 )
Tracks
Disc One [1:19:16]
01 Intro
02 Wilco (the song)
03 Bull Black Nova
04 You Are My Face
05 I Am Trying to Break Your Heart>
06 One Wing
07 Via Chicago
08 Company In My Back
09 banter
10 Handshake Drugs
11 Side With the Seeds
12 Pot Kettle Black
13 Nothing'severgonnastandinmyway(again)
14 I'll Fight
15 Impossible Germany
16 California Stars
17 Poor Places>
Disc Two [1:01:06]
::begin acoustic set::
18 Spiders (Kidsmoke)
19 More Like the Moon
20 banter
21 Forget the Flowers
22 Someday, Some Morning, Sometime
23 Laminated Cat
24 banter
25 War On War
26 Passenger Side
::end acoustic set::
27 banter
28 Airline to Heaven
29 A Shot In the Arm
30 Jesus, Etc.
31 You Never Know
32 Heavy Metal Drummer
Disc Three [1:06:30]
33 Red-Eyed and Blue
34 I Got You (At the End of the Century)
35 Broken Arrow [Buffalo Springfield]
36 Hate It Here
37 Theologians
38 I'm the Man Who Loves You
39 Monday
40 Thank You Friends [Big Star]
41 encore break
42 The Late Greats
43 I'm A Wheel
If you download this recording, we expect that you will PLEASE SUPPORT Wilco, visit their website, and purchase their official releases directly from the band here.