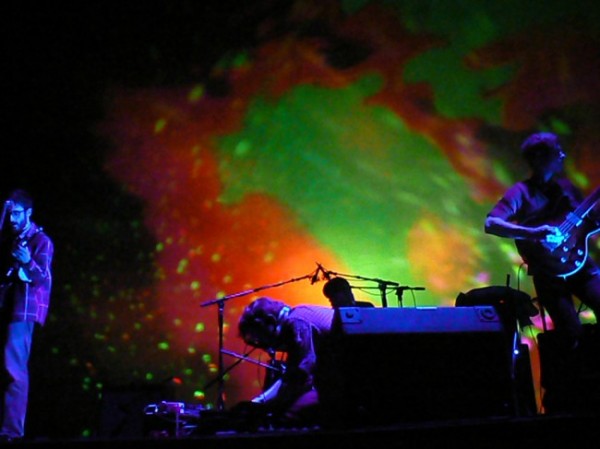 [Photo courtesy of John Ruscher with nyctaper favorites Eardrum NYC]
Whoa.  The first few times I saw Woods, I enjoyed it – I have a soft spot for their particular brand of folkish, ramshackle psychedelia.  Back then, the band came across onstage much as they did on record, as a very DIY affair.  Which is not to say they were unusually rough around the edges for a late-2000s vintage Brooklyn band, or that they didn't have the songwriting chops (they had been hailed early on by Pitchfork and others for songs like "Rain On").  But they were nothing like the polished, free-jamming foursome that I saw this Thursday at Abrons Arts Center.  Backed by the Joshua Light Show, who projected molting swirls and swatches of color behind them, Woods played now-common favorites like "Rain On" and "Blood Dries Darker," but they also demonstrated their status as the preeminent indie rock jam band.  That term, of course, is pejorative in the circles this band belongs in, but it seems fitting for a set that included an 8-minute "The Hold" and another song that stretched an impressive 16 minutes!   Joshua Light Show concerts are legendary and rare, and in honor of that, Woods came out and slayed it, giving one of the best performances I have seen this year.   With the swirling colors behind them, the band members' interplay seemed almost magical, mesmerizing the crowd as the colors matched their rhythms.   These light shows are particularly special in that they are performed live with liquids and other mysterious ingredients, so no two shows are alike.  Do yourself a favor, and put any future Joshua Light Show concerts high on your list.  To see what The New York Times had to say, click here.
I recorded this set from dead center on the balcony with the DPA microphones.  The sound is superb.  As an added bonus, I have included a link to an earlier Woods show that I recorded on August 14, 2009 at the Bell House, when they opened for Dungen.  The evolution in even this short amount of time is, I think, revealing.
Download the complete shows on the Live Music Archive: [ABRONS ARTS CENTER] | [BELL HOUSE]
ABRONS ARTS CENTER SHOW:
BELL HOUSE SHOW:
Woods
2010-05-13
Abrons Arts Center
New York, NY  USA
An acidjack master recording
Recorded and produced by acidjack for nyctaper.com
Premiere download exclusively at nyctaper.com
Equipment: DPA 4021>Edirol R-44 (Oade Concert Mod)
Position: Balcony, DFC, ORTF
Mastering: 24bit/44.1kHz WAV>Audacity (set fades, tracking, amplify channels, EQ (trim 100-400Hz, boost 10-20kHz))>FLAC ( level 8 )
Tracks
01 Intro
02 Creeps
03 Blood Dries Darker
04 To Clean>Get Back
05 Bend Beyond
06 Rain On
07 Suffering Season
08 Down This Road>The Hold
09 The Hold (continued)
10 I Was Gone
11 [Goodbye banter]
BONUS RECORDING
Woods
2009-08-14
The Bell House
Brooklyn, NY  USA
An acidjack master recording
Equipment: AKG ck91 cardiod capsules (Busman active mod)>custom battery box>R-09HR (24bit/48kHz)
Location: Mics mounted DIN on custom kwon bar on pole clamped to left corner of SBD cage, 10ft total height
Processing: WAV>Audacity (smooth peaks, tracking, downsample to 16bit/44.1kHz, amplify each channel to -0.1dB)>FLAC ( level 8 )
Tracks:
1. Intro
2. The Creeps
3. Blood Dries Darker
4. [banter]
5. Rain On
6. [segue/soundcheck]
7. Get Back
8. To Clean
9. The Number
10. Down This Road
11. The Hold
12. The Hold Cont.
13. Twisted Tongue
If you email nyctaper for access to these recordings, we expect that you will PLEASE SUPPORT Woods, visit their MySpace page, and purchase their official releases, including their latest, At Echo Lake, from Woodsist Records.