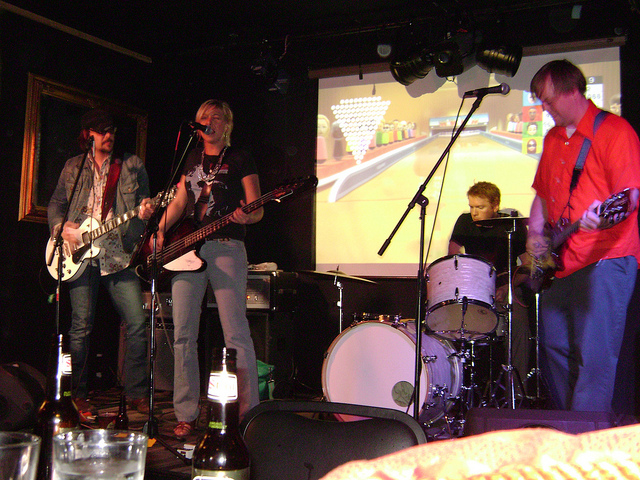 [Bunnygrunt live on tour.  Photo courtesy of Rob Severson]
Hailing from St. Louis, MO, Bunnygrunt may not be a household name to most on the East Coast, but core band members Matt Harnish and Karen Ried have been making fan-beloved, often humorous pop music under this moniker since 1993.  The band's style is all about uncomplicated lo-fi pop, with few songs clocking in above the two-minute mark.  Despite a Sunday daytime slot at the NYC Popfest 2010 at Littlefield, the band brought one of the biggest crowds of any of the day's acts, and deservedly so, as they gave the Brooklyn crowd a rapid-fire dose of 13 songs (in 32 minutes!) of pure Midwestern power pop.  The set closed out with "Southtown Famous" and it's simple mantra – "Gonna get drunk tonight, tonight / gonna get drunk tonight!"  On a hungover Sunday afternoon, sometimes light, economical pop is the perfect antidote (even if the song is about drinking more).
I recorded this set in the same manner as the other NYC Popfest sets, with the DPA microphones and an excellent soundboard feed.  Please help out with the setlist if you can.
Stream "Southtown Famous":
Audio clip: Adobe Flash Player (version 9 or above) is required to play this audio clip. Download the latest version here. You also need to have JavaScript enabled in your browser.
Direct download of MP3 files (HERE)
Download the Complete show in FLAC [HERE].
Bunnygrunt
2010-05-23
NYC Popfest 2010
Littlefield
Brooklyn, NY  USA
An acidjack master recording
Recorded and produced by acidjack for nyctaper.com
Equipment: Stereo soundboard feed + DPA 4021>Edirol R-44 (Oade Concert Mod) (24/44.1)
Position: ROC, left wall of SBD cage, mics at 8?
Mastering: 2×24bit/44.1kHz WAV>Audacity (set fades, mixdown, tracking, amplify channels)>FLAC ( level 8 )
Tracks [Total time 32min]
01
02
03
04 S. Kings Highway Bubblegum Factory
05
06
07 Frankie Is A Killer
08
09
10 Let It Out
11
12
13 Southtown Famous
If you email nyctaper for access to this recording, we expect that you will PLEASE SUPPORT Bunnygrunt, visit their MySpace page, and purchase their records from HHBTM Records here.