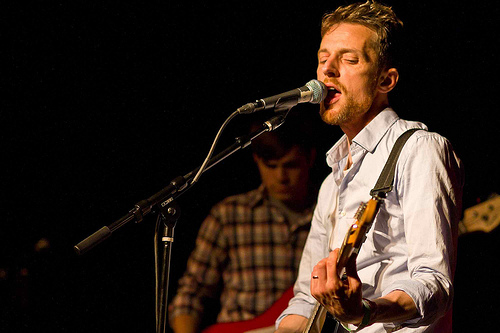 [Photo courtesy of Sam?]
Gothenburg, Sweden's The Embassy arrived in NYC off of a long overnight flight, and had to prepare in short order to close out the NYC Popfest 2010 with the last set of the night at Littlefield.  The organizers were particularly proud of the coup of bringing the band over for this show, and the band returned the favor.  Despite a vocal mix that was a bit high at times, The Embassy delivered a fun, upbeat set of pop-driven electronica, joking with the audience and keeping the energy up.  Although they are long overdue for a new record (Tacking was released in 2006) they played material from all over their catalog, including the 2008 single "State08? and the 2009 single, "You Tend to Forget".
I recorded this set from the same location as the other NYC Popfest recordings, with a stereo soundboard feed and the DPA microphones.  As the vocals were a bit higher in the mix on this feed, I have emphasized a bit more of the audience recording to make a more balanced mix.  You can now stream this entire show direct from nyctaper.com, so we hope you will take advantage of this fun new option.  Enjoy!
Stream the entire show:
Audio clip: Adobe Flash Player (version 9 or above) is required to play this audio clip. Download the latest version here. You also need to have JavaScript enabled in your browser.
Direct download of MP3 files (HERE)
Download the Complete show in FLAC [HERE].
The Embassy
2010-05-23
NYC Popfest 2010
Littlefield
Brooklyn, NY  USA
An acidjack master recording
Recorded and produced by acidjack for nyctaper.com
Equipment: Stereo soundboard feed + DPA 4021>Edirol R-44 (Oade Concert Mod) (24/44.1)
Position: ROC, left wall of SBD cage, mics at 8?
Mastering: 2×24bit/44.1kHz WAV>Audacity (set fades, mixdown, EQ, tracking, amplify channels)>FLAC Level 8
Tracks [Total time 32:55]
01 The Pointer
02 It Pays To Belong
03 Stage Persona
04 State08
05 [unknown]
06 Lurking
07 You Tend to Forget
08 Some Indulgence
If you download this recording from NYCTaper, we expect that you will PLEASE SUPPORT The Embassy, visit their MySpace page, and purchase their records from your favorite online retailers (unfortunately, they are not that easy to come by, but there are some links on Amazon here).