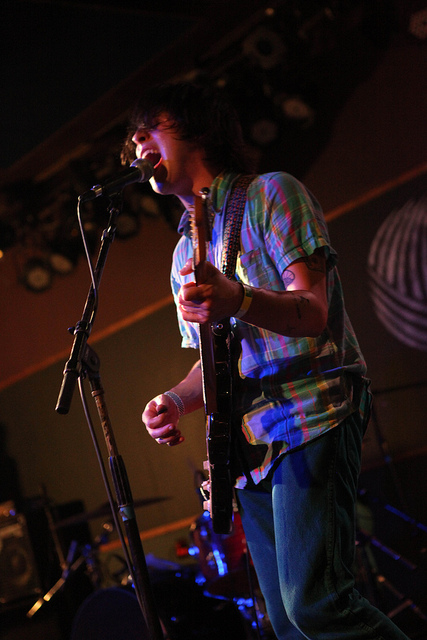 [photo courtesy of Dave Wharton]
Sweaty bodies were flying all over the place at the Knitting Factory as Wavves headlined the official kickoff show of the 2010 Northside Festival.  Wavves may have been on the bill, and frontman Nathan Williams was certainly there, but otherwise, this was a very different band than the the duo I recorded at the Bowery Ballroom last year, when Nathan came onstage in a cast, chastened after a string of unfortunate incidents and bad press (which, if one judges by Brooklynvegan commenters, earned the man a lot of haters) – and blew the doors off the place in spite of it.  Now, Williams is back with new songs, and more importantly, a new rhythm section consisting of bassist Stephen Pope and drummer Billy Hayes, formerly known as Jay Reatard's (RIP) band.  The new band does wonders for Wavves, for one thing, Wavves is now, in fact, a full actual band.  It may be party music, fine – but it's good party music now.  Hayes keeps things lively in between songs with what seems to be the assumed mantle of stage banter duties, and Williams seems grateful not to have the burden.  As for the band's new songs, from the forthcoming King of the Beach (out August 3rd), in the live setting, the departure is less dramatic than the well-mixed, lighter-feeling and less home-demo sounding songs that have been released to the Internet so far, but they are still a clear step forward.  Tonight we heard several forthcoming examples of what King of the Beach will have to offer, including the first single, "Post Acid," "King of the Beach," and "Green Eyes".  Northside has stepped up its game even further and has the fans pumped – we can't wait for the next few nights (and days) of shows.
I recorded this set with a stereo soundboard feed and Schoeps CMC641 microphones eight feet up.  The result is a nicely balanced and spot-on rendition of the night.  Enjoy!
Stream "Post Acid":
Audio clip: Adobe Flash Player (version 9 or above) is required to play this audio clip. Download the latest version here. You also need to have JavaScript enabled in your browser.
Direct download of complete show in MP3 files (HERE)
Download the Complete show in FLAC [HERE].
Wavves
2010-06-24
Knitting Factory
Brooklyn, NY  USA
An acidjack master recording
Recorded and produced by acidjack for nyctaper.com
Equipment: Schoeps CMC641+Stereo soundboard feed>Edirol R-44 (Oade Concert Mod) (24/44.1)
Position: Clamp to right side of sbd booth, 8 ft up, DIN
Mastering: 2×24bit/44.1kHz WAV>Audacity (mixdown, set fades, slight EQ, adjust levels, downsample to 16bit)>FLAC Level 8
Tracks
01 intro
02 Friends Were Gone
03 King of the Beach
04 To the Dregs
05 Idiot
06 [interlude]
07 Wavves
08 Green Eyes
09 So Bored
10 Weed Demon
11 Post Acid
12 Take On the World
13 Stupid
14 In the Sand
15 [encore break]
16 Beach Demon
17 No Hope Kids
If you download this recording from NYCTaper, we expect that you will PLEASE SUPPORT Wavves, attend their shows, visit their website, and pre-order King of the Beach from Fat Possum records.