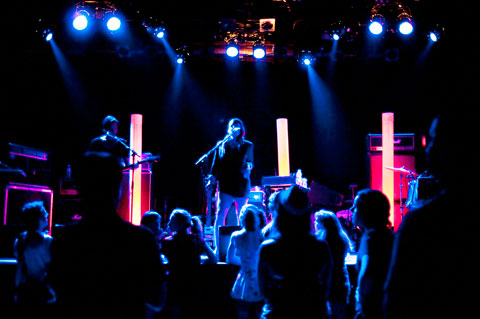 [Photo courtesy of Jessica Amaya and Brooklynvegan]
ZaZa are a Brooklyn-based trio that boasts an unusual modus operandi – they never play the same exact set twice.  While the band, consisting of Jennifer Fraser (formerly of The Warlocks), Danny Taylor and Dru Prentiss currently has only their excellent Cameo EP to its name (with a full length on the way this year), they stretch their material by transitioning songs with unrehearsed free playing.  With a shoegaze-electronica sound that has landed them opening slots for like-minded bands such as The Pains of Being Pure at Heart and Black Rebel Motorcycle Club, ZaZa's EP grabbed early attention, and this performance at the 2010 Northside Festival's BrooklynVegan showcase at Music Hall was the type to guarantee more attention when the full record drops.  Although stuck with the unenviable task of taking the early slot, those who made it early were rewarded with a strong performance that debuted excellent new material (new to me/not on their EP in any case), including my personal favorite of the set, "Distance Creator".
We recorded this set from our usual spot at Music Hall with the four-microphone rig.  The sound quality is outstanding.  Enjoy, and look for more Northside sets to be on this site in the coming days.  The entire ZaZa show is available for streaming on this site and the FLACs and MP3s are properly tagged for iTunes.
Thanks to BrooklynVegan for this outstanding showcase and their continued support of NYCTaper, and to the Northside Festival and The L Magazine for organizing it.  Finally, thanks to Danny from ZaZa for his help with the setlist, and a great performance!
Stream the entire show:
Audio clip: Adobe Flash Player (version 9 or above) is required to play this audio clip. Download the latest version here. You also need to have JavaScript enabled in your browser.
Download the entire show in MP3 [HERE]
Download the Complete show in FLAC [HERE].
ZaZa
2010-06-26
Music Hall of Williamsburg
Brooklyn, NY  USA
An acidjack master recording
Recorded and produced by acidjack for nyctaper.com
Equipment: Schoeps CMC641+DPA 4021>Edirol R-44 (Oade Concert Mod) (24/44.1)
Position: Clamp to left side of sound booth, mics at 7.5?, DPAs ORTF, hypers pointed at stacks
Mastering: 2×24bit WAV>Audacity (mixdown, set fades, tracking, EQ, light compression, downsample to 16bit)>FLAC Level 8
Tracks
01 Sooner or Later
02 Are What You Aren't
03 Arms Length
04 Distance Creator
05 Burn and Build
06 Faith in the Faithless
If you download this recording from NYCTaper, we expect that you will PLEASE SUPPORT ZaZa, visit their MySpace page, and purchase their EP Cameo from Kanine Records here.