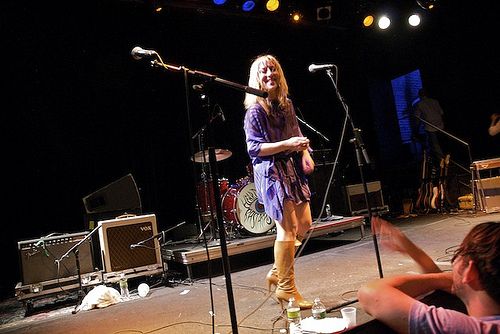 [Photos courtesy of Stephanie Keith]
The Heartless Bastards are one of those acts that are flat-out solid.  With a heavy dose of Midwestern charm (they're from Cincinnati) and bluesy rock riffs, this is a band that can be counted on, show after show, to give a memorable performance.  Vocalist Erika Wennerstrom's cigarettes-and-whiskey voice has never sounded better, and this surprisingly boozed up Wednesday night Music Hall of Williamsburg crowd knew it, too, whooping their appreciation for the full 90+ minutes of their set.  This newish lineup (as of 2008) rocks like a bar band made good, but they also have considerable chops.  The Bastards also joined with opening act Peter Wolf Crier (also recorded; coming soon) for a special rendition of "Be So Happy".  Another highlight was "All This Time", featuring an extended intro from drummer Dave Colvin.
At the request of the Music Hall staff, Johnny Fried Chicken Boy and I moved our gear to the balcony.  The sound up there tends to have more sound reflection than the floor, but with some further editing to reduce that characteristic, this recording using a four mic combination of Schoeps hypercardiods and the DPA 4021s is of excellent quality (and the crowd is much quieter, too!).
Stream "All This Time":
Audio clip: Adobe Flash Player (version 9 or above) is required to play this audio clip. Download the latest version here. You also need to have JavaScript enabled in your browser.
Stream "Be So Happy" with Peter Wolf Crier:
Audio clip: Adobe Flash Player (version 9 or above) is required to play this audio clip. Download the latest version here. You also need to have JavaScript enabled in your browser.
Direct download of MP3 files [HERE]
Download the Complete show in FLAC [HERE].
Heartless Bastards
2010-07-14
Music Hall of Williamsburg
Brooklyn, NY  USA
An acidjack master recording
Recorded and produced by acidjack for nyctaper.com
Equipment: Schoeps CMC641+DPA 4021>Edirol R-44 (Oade Concert Mod) (24/44.1)
Position: Balcony clamp, DFC, DPAs X/Y, Schoeps pointed down at stacks
Mastering: 2×24bit/44.1kHz WAV>Audacity (mixdown, set fades, EQ (trim bass frequencies/room resonances, slight bump at 10kHz), amplify and balance channels, compression on a couple of peaks)>FLAC Level 8
Tracks [Total Time 1:36:54]
01 Into the Open
02 Done Got Old
03 Out at Sea
04 Onions
05 Witchy Poo
06 [banter]
07 Blue Day
08 I Swallowed A Dragon Fly
09 [banter]
10 So Quiet
11 Had To Go
12 All This Time
13 The Mountain
14 Sway
15 Hold Your Head High
16 Swamp Song
17 Nothing Seems the Same
18 Early In the Morning
19 [encore break]
20 Be So Happy (with Peter Wolf Crier)
21 Gray
22 Runnin
If you download this recording from NYCTaper, we expect that you will PLEASE SUPPORT Heartless Bastards, visit their website, visit their MySpace page, and purchase their official releases and merch from the store at their website [HERE].