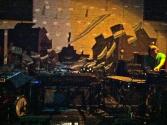 [Photo by acidjack. Apologies for the quality – it was quite dark, and it would have been rude to use flash]
The band 47.5 is an experimental duo comprised of the outstanding Japanese musicians (and longtime Brooklyn residents) Yusuke Yamamoto and Yoshio Kobayashi.  Yamamoto and Kobayashi are students of the technical and gear-related side of music as well – the band's name refers to the running speed of an old-school cassette tape.  The band's sound relies on electric and conventional drums, synths, vibraphone and loops, densely layered to create a sound that lies at the intersection of jazz, rock, dub and electronica.  For an easy reference point, think Tortoise, with less of a musical focus on percussion.  This living room-style show at Studio BPM provided an excellent introduction to this fascinating duo, who were playing the show with Lymbyc Systym to celebrate the release of 47.5's first record, Warm Sea. Although they indicated to me early on that they were still getting comfortable with the material, this tight melodic journey belied none of that, as the band recreated their intricate tracks in the live setting perfectly.
I recorded this set in the same manner as the Lymbyc Systym set, with a stereo soundboard feed and the DPA microphones in the center of the room.  The sound quality is among my best of the year.  Enjoy!
Assistance with the setlist for this show would be appreciated.
Stream "Chin Don":
[audio:http://www.nyctaper.com/F1980_475_0210/47.5-ChinDon2010-09-18.mp3]
Direct Download of MP3 files [HERE]
Download the Complete show in FLAC [HERE].
47.5
2010-09-18
Studio BPM
Brooklyn, NY  USA
An acidjack master recording
Recorded and produced by acidjack for nyctaper.com
Equipment: DPA 4021+stereo soundboard feed>Edirol R-44 (Oade Concert Mod) (24/44.1)
Position: FOB, DFC, 8? up, DIN
Mastering: 2×24bit WAV>Audacity (mixdown, set fades, EQ, tracking, amplify and balance, downsample to 16bit)>FLAC ( level 8 )
Tracks [Total Time 54:54]
01
02
03
04
05 Chin Don
06
07
08
09
If you download this recording from NYCTaper, we expect that you will PLEASE SUPPORT 47.5, visit their MySpace page, and purchase Warm Sea from MeMeAntenna here, on  iTunes or at your favorite retailer.