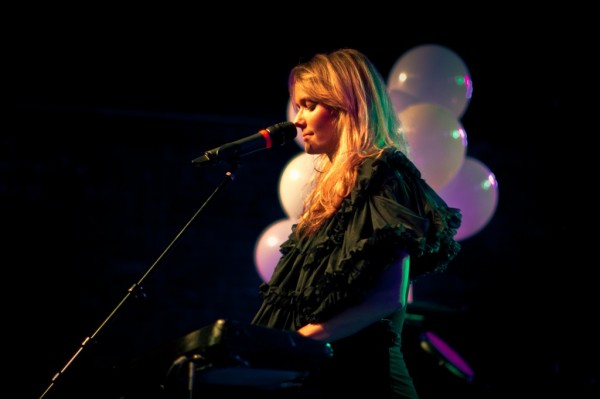 [Photography by Eloy Anzola]
Take a look at the gorgeous photos above and below on this post, and you will know all that you need to know about the evolution of Oh Land since she hit the U.S. scene earlier this year.  When we last saw her full "electric" set at the FREEWilliamsburg Northside Showcase at Brooklyn Bowl this June, it was obvious that Nanna Øland Fabricius was a prized talent just coming into her own.  Her music is original but accessible; catchy and fun and welcoming to all comers, but quirky and organic in a way that ensures she won't be lumped in with any high-gloss pop princesses.  I have seen three of her performances in total, including the "acoustic" set we recorded at the Backyard Brunch Sessions last month, and she has consistently proven herself as a musician, refining her arrangements (and in the case of the acoustic show, delivering entirely new ones) and giving sharp, entrancing vocal performances.  Nanna's evolution from June is evident.  Now fully versed in how to use "the contraption" (the mysterious effects, keyboard and percussion box that accompanies her at all shows), and sporting a full-time drummer, her show now feels like a true performance, a celebration of her talent and a gift to her audience.  What rough edges there were are gone and her confidence is in full bloom; Fabricius is clearly ready for the next level.  Add to that the fact that she comes across as a humble, likable person onstage, and you can appreciate why she was able, on a very cold Tuesday night, to pack the inaugural "Brunch After Dark" show at Brooklyn Bowl.  "I love Brooklyn Bowl," Nanna announced from the stage, and well she should.  She wears this venue well.
I recorded this set with a soundboard feed and the Schoeps microphones on a 12-foot stand directly in front of the soundboard.  The outstanding quality of the recording owes almost entirely to the Brooklyn Bowl staff's impeccable house mix.   We greatly appreciate their efforts.
Oh Land has a record coming out next year, an EP out currently that features many of these songs, and a very special performance this Monday at Mercury Lounge with Steve Lewis & the Vagrants.
Stream "Sun of a Gun":
Audio clip: Adobe Flash Player (version 9 or above) is required to play this audio clip. Download the latest version here. You also need to have JavaScript enabled in your browser.
Stream "Lean On Me":
Audio clip: Adobe Flash Player (version 9 or above) is required to play this audio clip. Download the latest version here. You also need to have JavaScript enabled in your browser.
Direct download of MP3 files [HERE]
Download the Complete show in FLAC [HERE].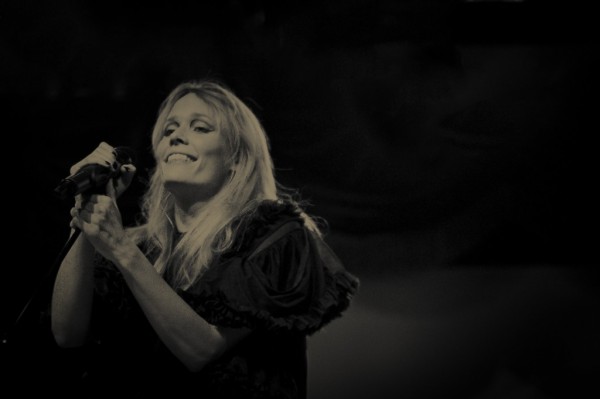 Oh Land
2010-11-08
Brooklyn Bowl
Brooklyn, NY USA
An acidjack master recording
Recorded and produced by acidjack for nyctaper.com
Equipment: Soundboard feed + Schoeps CMC641>Edirol R-44 (Oade concert mod) (24/48)
Position: At soundboard, slightly ROC, mics at 12ft
Mastering: 2×24bit/48kHz WAV>Audacity (EQ, mixdown, set fades, hard limit peaks, amplify and balance)>FLAC ( level 8 )
Tracks
01 Wolf and I
02 [unknown]
03 Sun of a Gun
04 banter
05 Lean On Me
06 White Nights
07 We Turn It Up
If you download this recording from NYCTaper, we expect that you will PLEASE SUPPORT Oh Land, visit their MySpace page, and purchase their 5-song EP, which is available at all major retailers, on iTunes and here.