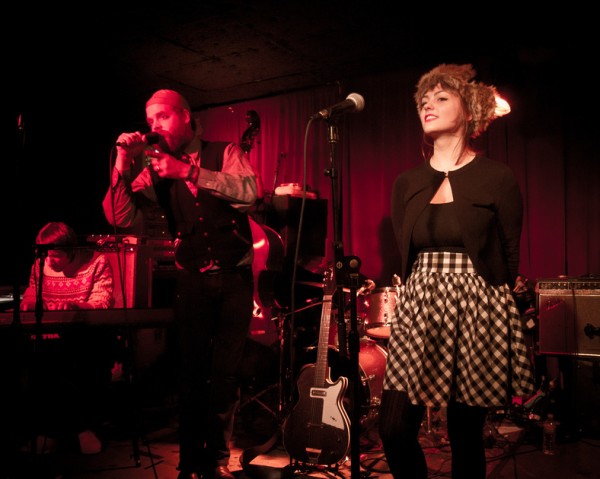 [Photos by Barry Yanowitz. Visit his website for these and many other excellent photos]
Will Oldham is one of those musical old souls, whose sound is impeccably ageless. With songs that incorporate elements of Americana, folk, country, rock, punk, blues, and a tinge of gospel, he is the consummate American artist, carrying in his haunting voice the sound of six generations' worth of hardscrabble and heartbreak. Oldham has recorded in recent years under the moniker Bonnie "Prince" Billy, with this particular roster of players dubbed Bonnie "Prince" Billy and the Cairo Gang. Although they were opening for Yo La Tengo on the seventh night of their incredible Hanukkah run at Maxwell's, Oldham and the band treated us to a full-length set that leaned heavily on Bonnie "Prince" Billy and the Cairo Gang's current release on Drag City, The Wonder Show of the World, but also showcased some rare and unusual numbers, including a cover of Willie Nelson's "In God's Eyes", and the Hasidic spiritual "Dark'cho". The players comprising the Cairo Gang gave each song the benefit of rich, full arrangements that highlighted Oldham's unforgettable vocals. In particular, I was blown away by the soulful "Teach Me To Bear You" from The Wonder Show of the World, with an extended, more rocking closing than on the record. Having enjoyed Oldham's records for years, it was truly a holiday gift to finally experience this incredible artist and songwriter's live show.
Special thanks go to Will Oldham for approving this recording.
I recorded this set from the same spot as the other sets we have posted from this concert series, using a soundboard feed and the Schoeps supercardiod microphones. The sound quality is excellent. Enjoy!
Stream "Teach Me To Bear You":
Audio clip: Adobe Flash Player (version 9 or above) is required to play this audio clip. Download the latest version here. You also need to have JavaScript enabled in your browser.
Direct download of MP3 files [HERE]
Download the Complete show in FLAC [HERE].
Bonnie "Prince" Billy
2010-12-07
Maxwell's
Hoboken, NJ USA
An acidjack master recording
Recorded and produced by acidjack for nyctaper.com
Equipment: Schoeps CMC6/mk41+Soundboard>Edirol R-44 [Oade Concert Mod] (24/48)
Position: LOC, clamp to soundboard booth, mics at 7.5′, pointed at stacks
Mastering: 2x24bit/48kHz WAV>Audacity (EQ AUD source, mixdown, set fades, tracking, amplify and balance, downsample)>FLAC ( level 8 )
Bonnie "Prince" Billy and the Cairo Gang are:
Will Oldham, voice
Emmett Kelly, guitar/voice
Danny Kiely, bass
Van Campbell, drums
Angel Olsen, voice
Ben Boye, keys
Tracks [Total Time 1:06:09]
1. The World's Greatest [R. Kelly]>Island Brothers
2. Easy Does It
3. Someone Coming Through
4. -banter-
5. Teach Me To Bear You
6. Troublesome Houses
7. In God's Eyes [Willie Nelson]
8. New Wonder
9. Go Folks, Go
10. I Never Thought My Love Would Leave Me
11. -banter-
12. Merciless and Great
13. Darkecho Elokeino
14. The Sounds Are Always Begging
If you download this recording from NYCTaper, we expect that you will PLEASE SUPPORT Bonnie "Prince" Billy and Will Oldham's other projects, visit his website, and purchase his official releases from Drag City records here.