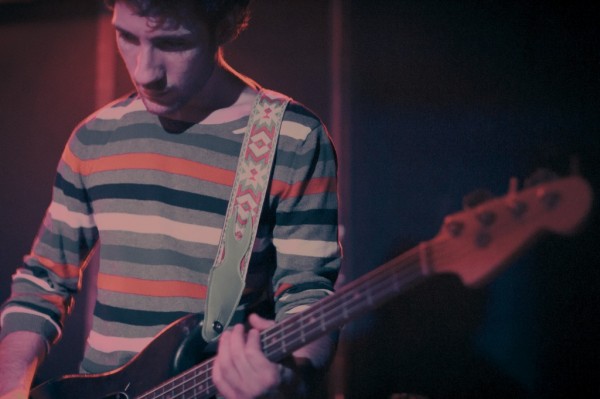 [Photo by Eloy Anzola. Visit his website here]
Montreal's Suuns are one ambitious, exciting band. If you punched up any random 30-second clips of tracks from their debut LP, Zeroes QC, you could encounter any number of distinct musical ideas. You might find the Zeppelin-on-acid riffs that are the foundation of "Armed for Peace," or the brooding, addiction-nightmare hiss of the vocals over a spare beat on "Up Past the Nursery," or even the slowed-down dubstep beat on "Pie IX". The point being, Suuns make angular, twisted art rock without a single stylistic straightjacket. From the get-go, this brash set at Rock Shop set a dark mood; the opening number "Skyscraper" blistered us with its marshal, repetitive drumbeat and bassline, clanging keyboard riff and frontman Ben Shemie's seething, ravaged vocal. Whether during the tightly-wound intro to "Pie IX" or the door-blowing assault of the set's closer, the eight-minute "Sweet Nothing," Suuns held our attention with their controlled intensity. They are a challenging band in the best of ways, unconcerned with pop convention or pandering. And although it is true that they can veer dizzyingly between tempos, styles and structures, their talent is equal to their ideas.
I recorded this set from our usual location in this outstanding venue, with the Schoeps microphones and a soundboard feed from the Rock Shop's team. The sound quality is excellent. Enjoy!
Stream "Armed for Peace":
Audio clip: Adobe Flash Player (version 9 or above) is required to play this audio clip. Download the latest version here. You also need to have JavaScript enabled in your browser.
Stream "Pie IX":

Audio clip: Adobe Flash Player (version 9 or above) is required to play this audio clip. Download the latest version here. You also need to have JavaScript enabled in your browser.
Direct download of MP3 files [HERE]
Download the Complete show in FLAC [HERE].
Suuns
2011-01-25
Rock Shop
Brooklyn, NY USA
An acidjack master recording
Recorded and produced by acidjack for nyctaper.com
Equipment: Schoeps CMC6/mk41+Soundboard>Edirol R-44 [Oade Concert Mod] (24/48)
Position: At soundboard, LOC, mics pointed at stacks at 8.5′
Mastering: 2x24bit/48kHz WAV>Audacity (EQ audience source, mixdown, set fades, tracking, smooth peaks, amplify and balance, downsample)>FLAC ( level 8 )
Tracks
01 Skyscraper
02 Arena
03 Up Past the Nursery
04 [new]
05 Armed for Peace
06 Gaze
07 [banter]
08 Pie IX
09 Sweet Nothing
If you download this recording from NYCTaper, we expect that you will PLEASE SUPPORT Suuns, visit their MySpace page, and purchase Zeroes QC from Secretly Canadian records here.