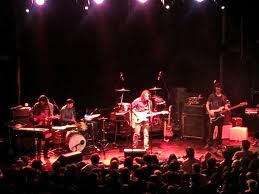 [Photos by acidjack]
The War On Drugs are an instant classic.  That is to say, depending upon what show you go to, you may feel like you've heard The War On Drugs before, and in a sense you would be right.  Vocalist Adam Granduciel fronts with an unabashedly Dylanesque style, and the band's 60s/70s influences – from Dylan to Springsteen to Led Zeppelin – are worn on their sleeve.  But then things take a turn for the psychedelic (with a name like that, who'd have thought otherwise?) and you can find yourself in a completely different place than you might be listening to, say, Highway 61 Revisited. Take the mid-set number, "It's Your Destiny," for example, with its shimmering guitars and Granduciel's languid delivery.  This particular set, opening for Destroyer (available for download on the site [HERE]), leaned more toward the Americana end of things than, for example, the set we saw opening for Black Mountain at the Knitting Factory recently, perhaps owing to the mellower vibe of the headliner.  Songs like "Buenos Aires Beach" and "Brothers" unpack their narratives beautifully, with words that are easy to follow and an expansive, breezy vibe that leaves you yearning for the sun.  The band's songs feel so comfortable that you have to imagine they have been together for years; in fact, they began with Kurt Vile and Granduciel playing together in 2005, before the band reconfigured (and Vile went solo) in 2008.  With just one full-length, the excellent Wagonwheel Blues, the almost-full-length Future Weather from 2008, and another EP to their credit thus far, and another full album on the way this year, the band have tons of room to grow on the album front, as they continue to prove themselves night after night with their live show.  We can't wait for their next release.
hi and lo and I recorded this set in the same manner as the Destroyer recording, with a combination of four Schoeps microphones.  The results are outstanding.  Enjoy!
Stream "Brothers":
[audio:http://www.nyctaper.com/W1008WOD2101/07 Brothers.mp3]

This recording is now available as a direct download in FLAC or MP3 from archive.org [HERE]
The War On Drugs
2011-04-03
Webster Hall
New York, NY USA
An acidjack master recording
Recorded by acidjack and hi and lo
Produced by acidjack
Equipment: Schoeps CMC6U/mk41>Sound Devices USBpre2+Schoeps mk4v>NBox>>Edirol R-44 [Oade Concert Mod] (24/48)
Position: Balcony, immediate left of soundboard, on clamps pointing at stacks
Mastering: 2×24bit/48kHz WAV>Audacity (mixdown, set fades, tracking, light EQ (less than -1dB cut at 160, 200, and 250Hz), amplify and balance)>FLAC ( level 8 )
Tracks
01 Best Night
02 Baby Missiles
03 Buenos Aires Beach
04 I Was There
05 It's Your Destiny
06 [banter]
07 Brothers
08 Comin' Through
09 Arms Like Boulders
If you download this recording from NYCTaper, we expect that you will PLEASE SUPPORT The War On Drugs, visit their website,  and purchase their official releases from Secretly Canadian Records  [HERE].