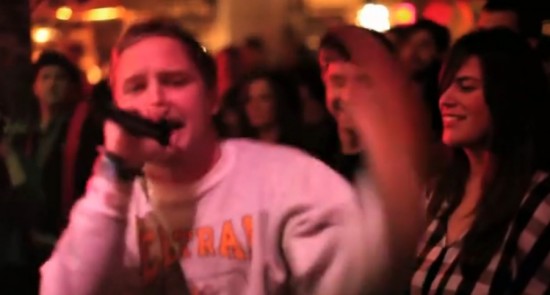 [Video still by Cannons]
I met Christopher Laufman, aka Wise Blood, just before he took the stage at Glasslands on Saturday. He seemed like a friendly, mild-mannered type of guy. In fact, dude was so unassuming, I would never have guessed he was a musician – and definitely not the kind of musician/performer that he is. He took the stage in a white sweatshirt and (as he pointed out) moccasins. He named his act after a Flannery O'Connor novel. Does this sound like some kind of badass MC to you?
Especially on April Fool's, you should expect looks to be deceiving.
Minute one of the set, and the sweatshirted-and-moccasin-ed guy is telling us "I'm about to wreck this." And then he does. On his bandcamp EP, "+" Laufman's vocals have more layers of effects over them, giving his recorded output a much… milder sound than the live performance. On record, we hear Laufman as barely a high-pitched whisper underneath the monstrous beats, but live, his voice is the ragged, raging centerpiece. At Glasslands, songs like "B.I.G. E.G.O. " took the tone of brash, angry manifestos, Laufman belting out the lyrics with the type of angry-white-boy attitude that Eminem had when he actually lived in a trailer. Whatever you think of his music (which can be quite catchy), Laufman is a hell of a performer to watch. In a first among the many shows I have seen at Glasslands, Wise Blood climbed up to the front of the balcony along with headliner Wu Lyf to perform "Solo (4 Claire)" for a few minutes, before jumping to the floor to finish the song. It was a raw, wild performance straight through to the end, when a shirtless Laufman careened through the song "Loud Mouths", singing a lot of the song from the crowd. He may look unassuming, but onstage, Wise Blood is an animal.
I recorded this set from our usual spot in the venue with the DPA microphones and a stereo soundboard feed from Derek at Glasslands. The sound quality is outstanding. Also, please look for a forthcoming video of the performance courtesy of Dovecote Records and Cannons.
Please note that although we would have loved to record Wu Lyf, their management very respectfully asked that we not do so. Therefore, that set was not recorded.
Stream "Loud Mouths":
Audio clip: Adobe Flash Player (version 9 or above) is required to play this audio clip. Download the latest version here. You also need to have JavaScript enabled in your browser.
Direct download of MP3 files [HERE]
Download the Complete show in FLAC [HERE].
Wise Blood
2011-04-01
Glasslands
Brooklyn, NY USA
An acidjack master recording
Recorded and produced by acidjack for nyctaper.com
Equipment: DPA 4021+stereo soundboard feed>Tascam DR-680 (24/48)
Position: Balcony, center, ORTF
Mastering: 2x24bit/48kHz WAV>Audacity (mixdown, set fades, tracking, amplify and balance)>FLAC ( level 8 )
Tracks
01 STRT SRNS
02 Indian Song
03 interlude
04 B.I.G. E.G.O.
05 Solo (4 Claire) [including balcony climb/dive]
06 I'm Losing My Mind
07 Loud Mouths
If you download this recording from NYCTaper, we expect that you will PLEASE SUPPORT Wise Blood, visit their MySpace page, and purchase their EP, "+" from their bandcamp page.