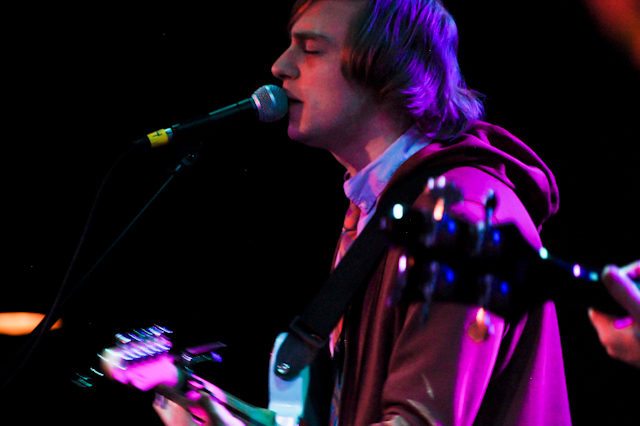 [Photo by Jill of fortheloveofbrooklyn photoblog]
We last caught Julian Lynch at Music Hall on a freezing cold January night, where he showed off some new songs from his then-forthcoming record, Terra. Since then, Terra has been released and proven another unqualified success, and Julian has had more time to develop the material in the live setting. This show found him opening for fellow Ridgewood, NJ natives Real Estate at the Bell House, a somewhat more cavernous space than the tight-sounding Music Hall. The set followed that January set relatively closely, with a few twists (and without the full 16-minute presentation of this night's closer, "Travelers") and included what appeared to be a new song (correct me if I'm wrong) that showed a more rocking side of Lynch. His current plans include some summer tour dates, as well as a planned EP for early 2012. Until then, we hope this live recording will tide you over.
hi and lo recorded this set from our usual spot in the venue with Schoeps cardiod microphones. The wider pattern of these mics picked up more of the room reverberations of the venue, and the Friday night crowd, than are optimal, but after some fairly heavy editing, I think it sounds quite good. Enjoy!
Real Estate was also recorded and will be posted shortly.
Stream the new song:
[audio:http://www.nyctaper.com/J7100JulianLynch0211/lynch.mp3]
Direct download of MP3 files [MP3]
Download the Complete show in FLAC [HERE].
Julian Lynch
2011-05-20
Bell House
Brooklyn, NY USA
Digital Master Audience Recording
Recorded by hi and lo for nyctaper.com
Produced by acidjack
Equipment: Schoeps Mk5 (cardiod)>NBox+>Sony PCM-M10 (24/44.1)
Position: Clamp to soundboard, mics DINa
Mastering: 24bit/44.1kHz WAV>Audacity (set fades, tracking, EQ, amplify and balance)>FLAC ( level 8 )
Tracks [Total Time 37:48]
01 Terra
02 Just Enough
03 Nen Vole
04 Stomper
05 Rivers
06 [tuning]
07 [unknown]
08 Rancher
09 Back
10 Travelers
If you download this recording from NYCTaper, we expect that you will PLEASE SUPPORT Julian Lynch, visit his website and bandcamp page and purchase his official releases from Olde English Spelling Bee.