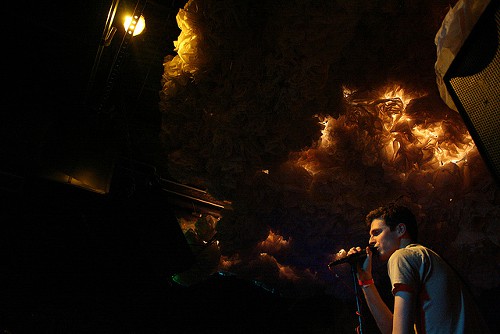 [Photo courtesy of L Magazine]
The arresting noisecore squall of White Suns is not for everybody. The band makes challenging, relentless music that pushes boundaries and often defies conventional understandings of song structure and composition. To the unitiated or unready, their music might just sound like an unholy racket – discordant, squealing guitars, sporadic gunfire bursts of drumming, demolished electronics. But White Suns are clearly fine with that – this is not a band that bends its will to the masses, clearly. But unlike a lot of the bands of their type, they are not merely cerebral avant-rockers pushing boundaries for boundaries' sake. Their songs seethe volatility and anger a la more traditional punk and hardcore, but without their often rote structure and dynamics. The crowd at Glasslands on this opening night of Northside Festival was clearly ready for White Suns, and the band gave a short but powerful set, opening up with a brooding, clangorous improvisation into the song "Voyeur," followed by an untitled new number that was the most straight-ahead hardcore song of the night, and ending with a seven-minute "Fire Sermon," a masterful exploration of noise dynamics that found singer/guitarist Kevin Barry repeatedly knocking his mic stand to the floor. Although their set came and went in about 20 minutes, White Suns left an indelible impression.
hi and lo and I recorded this set from the same location as the Mr. Dream and Sleepies recordings. The sound of this one is particularly good. Enjoy!
Stream "Fire Sermon":
[audio:http://www.nyctaper.com/W1606WhiteSuns2011/whitesuns2011-06-16glasslands_acidjack-03.mp3]
Direct download of MP3 files [HERE]
Download the Complete show in FLAC [HERE].
White Suns
2011-06-16
Northside Festival
Glasslands Gallery
Brooklyn, NY  USA
An acidjack master recording
Recorded by acidjack and hi and lo
Produced by acidjack
Equipment: Schoeps Mk5 (omni)>EAA PSP2 + Soundboard >> Edirol R-44 [Oade Concert Mod] (24/48)
Position: Clamp to center post, about 7.5ft up, 30cm split
Mastering: 2x24bit/48kHz WAV>Audacity (mixdown, set fades, tracking, amplify and balance)>FLAC ( level 8 )
Tracks
01 Improv>Voyeur
02 untitled
03 Fire Sermon
If you download this recording from NYCTaper, we expect that you will PLEASE SUPPORT White Suns, visit their website, and purchase their latest record [HERE]