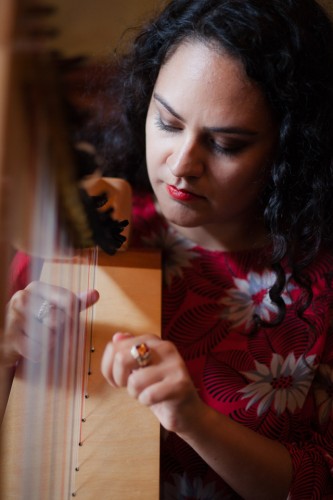 [Photo by Dominick Mastrangelo]
The Backyard Brunch Sessions made a rare move indoors on a recent Saturday for this excellent performance by Brooklyn's own Teletextile, due to the threat of rain. We couldn't have asked for a better indoor setting (or one with better drinks) than Williamsburg's best cocktail bar, The Richardson, in its intimate downstairs parlor. As light shined through windowed glass doors to the street and attendees ate white gazpacho, Teletextile showed off the avant-pop chops of frontwoman Pamela Martinez (wearing some unmistakable headwear) and her band. Mixing in unusual instruments like a full-sized harp and an accordion, this mostly-acoustic set focused on the band's recent EP, Reflector. Martinez led off with a solo number, "Heartquake" which had her voice trilling to the upper registers at its peak, then sinking effortlessly back to a whisper. After that head-turning beginning, the band continued with strong material, including "What If You" and its companion song, "What If I" from Reflector, that showed off their basic chops as well as their unique perspective.
hi and lo recorded this set with a variety of high-end microphones placed around the room. The results are excellent. Enjoy!
Stream "What If I":
[audio:http://www.nyctaper.com/T1202Teletextile8888/05 What If I.mp3]
Direct download of MP3 files [HERE]
Download the Complete show in FLAC [HERE].
Teletextile
2011-08-07
Backyard Brunch Sessions at the Richardson
Brooklyn, NY USA
Recorded by hi and lo and acidjack for nyctaper.com
Produced by acidjack
Source: AKG C 414 B-XLS>Sound Devices USBpre2 + Schoeps Mk41>CMR>EAA PSP2 >> Tascam DR-680 (24/48)>Audition (mixdown, effects)>Audacity (set fades, tracking, amplify and balance)>FLAC ( level 8 )
Tracks
01 Intro
02 Heartquake (solo)
03 What If You
04 The Lark
05 What If I
06 [banter]
07 Distant Places
If you email nyctaper for access to this recording, we expect that you will PLEASE SUPPORT Teletextile, visit their website, visit their MySpace page, and purchase their CDs and merch from the Store at the Teletextile website [HERE]