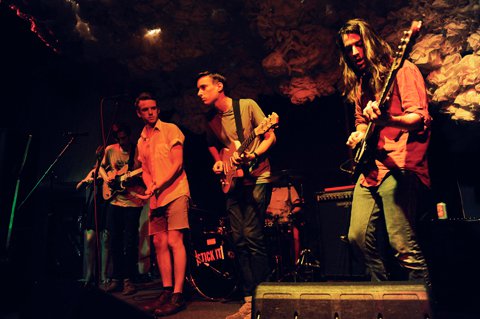 [photos by Jessica Amaya, originally appeared on brooklynvegan]
Without question one of my surprise favorite performances of the year was Hoop Dreams, a Blacksburg, Virginia band signed to Captured Tracks. We caught them on a summer night at Glasslands with a packed crowd, typical for a PopGun Booking, and for what was likely their NYC debut. While having only recently released their first single XCPR (which has found a permanent place in my daily playlist) this summer, Hoop Dreams performed ten highly polished songs. With the captivating voice of vocalist Max Brooks and bass-driven melodies, Hoop Dreams could easily be the kid brother of Depeche Mode and The National.
Acidjack and I captured this performance with a pair of Schoeps Cardioid microphones and mixed it with an excellent soundboard feed provided by the house. We hope you enjoy this breakout performance and fantastic recording!
Stream "XCPR" from Glasslands:
[audio:http://nyctaper.com/H2800HoopDreams1012/hoopdreams2011-08-02.XCPR.mp3]
Stream "New Time" from Glasslands:
[audio:http://nyctaper.com/H2800HoopDreams1012/hoopdreams2011-08-02.NewTime.mp3]
Direct download of MP3 files [HERE] | Direct Download of FLAC files [HERE]
Note: All of the material on this site is offered with artist permission, free to fans, at our expense. The only thing we ask is that you download the material directly from this site, rather than re-posting the direct links or the files on other sites without our permission. Please respect our request.
Hoop Dreams
Glasslands
Brooklyn, NY, US
2011-08-02
Recordist : hi and lo
Source : Soundboard + Schoeps Mk5 (cardiod)>EAA PSP2 >> Tascam DR-680
Position : Center post, ORTF, 8ft up
Mastering : Wavelab 5 (Mixdown/EQ/Fades) > Flac Level 8 with TLH v2.6.0 (Build 168)
Tracklist:
01. Black Sunglasses
02. Choir
03. XCPR
04. Away Away
05. New Time
06. Under the Snow
07. Knife Fights
08. Home Alone
09. Was There Anything I Could Do? [The Go-Betweens]
10. Jumping Fences
Running Time: 36:45
If you enjoyed this recording from NYCTaper, PLEASE SUPPORT Hoop Dreams, visit their MySpace page, and purchase their single XCPR from Captured Tracks.