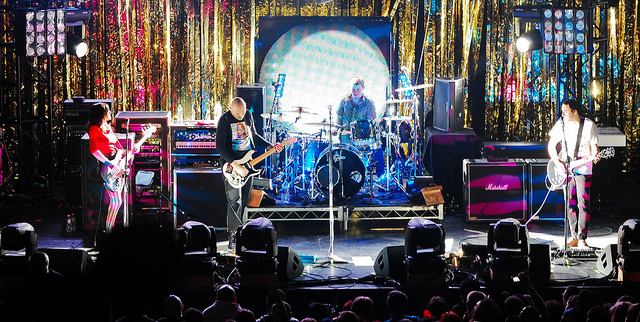 [photos courtesy of Jill and For the Love of Brooklyn. See all her pictures here!]
For me, the hobby of live recording at concerts has one origin; the Smashing Pumpkins. It was in 2000 and the band was on their final world tour when I was drawn into this hobby. The band, still mired in the politics of a big recording label, did not openly allow taping, but those that were interested were just an internet search away from immersion into a community of passionate fans who were taping, trading and archiving recordings.
Since the band's humble beginnings in Chicago, Billy Corgan was receptive towards live recordings and the community often saw 'leaked' analog cassettes from the archives. (Mashed Potatoes, anyone?) It was through these tapes that I was drawn to the beauty of live recordings, experiencing the energy and passion of a show I could not attend, or creating a permanent memory of those I could. Fortunately for the taping community, in 2003, Billy Corgan instituted an open taping policy with his side project Zwan and legions of fans could finally – and legally – document their performances.
Though the only remaining original member of the band is Corgan, this open taping policy has remained constant and is exposing new fans to their huge catalog of music while showcasing the talent of their three new members, guitarist Jeff Schroeder, bassist Nicole Fiorentino, and 21-year-old Mike Byrne on drums. But regardless of the lineup changes, the music remains as powerful as ever, selling out venues and enthralling crowds worldwide.
The NYCTaper crew caught the Smashing Pumpkins on tour at Terminal 5 this week and they did NOT disappoint. Indeed, their performance was a mind-blowing mix of new material from their forthcoming album, Oceania, with sprinklings of hardcore fan favorites from Gish, Siamese Dream, Pisces Iscariot, Mellon Collie, and Adore. We recorded this show with multiple rigs clamped to an ideal spot above the soundboard, and the house mix was as good as any of us had ever heard at Terminal 5. Thanks to the electric performance of the band and the crazy high energy of the crowd, the results of our recordings were nothing short of fantastic.
In honor of JFCB who sent us a 4AM email (he just couldn't stop listening!), we are streaming two of his favorites from the show:
Stream "Geek U.S.A."
Audio clip: Adobe Flash Player (version 9 or above) is required to play this audio clip. Download the latest version here. You also need to have JavaScript enabled in your browser.

Stream "Muzzle"
Audio clip: Adobe Flash Player (version 9 or above) is required to play this audio clip. Download the latest version here. You also need to have JavaScript enabled in your browser.
Direct download of MP3 files [HERE]
Direct download of FLAC files [HERE]
Note: All of the material on this site is offered with artist permission, free to fans, at our expense. The only thing we ask is that you download the material directly from this site, rather than re-posting the direct links or the files on other sites without our permission. Please respect our request. Note that this show will be uploaded to the Live Music Archive shortly. Please do not upload to the LMA on our behalf.
The Smashing Pumpkins
Terminal 5
New York, NY, US
2011-10-18
Recordist : hi and lo
Location : first balcony rail, DFC
Source : Schoeps MK41/CMR > Naiant PFA > EAA PSP-2 > Tascam DR-680 @ 24 bit / 48 kHz
Edit : WaveLab V6 (EQ/Fades/Resampling/Dither)
Final Format : 16 bit, 44.1 kHz
Tracking : CD-Wave v1.98
Encoding : FLAC v1.2.1 Level 8 with TLH v2.6.0 (Build 168)
Tracklist:
01. Intro
02. Quasar
03. Panopticon
04. Starla
05. Geek U.S.A.
06. Muzzle
07. Window Paine
08. Lightning Strikes
09. Soma
10. Siva
11. Oceania
12. Frail and Bedazzled
13. Silverfuck
14. Obscured
15. Pale Horse
16. Thru the Eyes of Ruby
17. Cherub Rock
18. Owata
19. My Love Is Winter
20. For Martha
21. (Encore Call)
22. Pissant
23. Bullet with Butterfly Wings
Running Time: 2:16:45
Please support Smashing Pumpkins by seeing them on their current tour in support of Oceania and by visiting their official website. If you've enjoyed this recording, you may also purchase an official soundboard version directly from the band's website and by signing up for the Smashing Pumpkins Record Club.