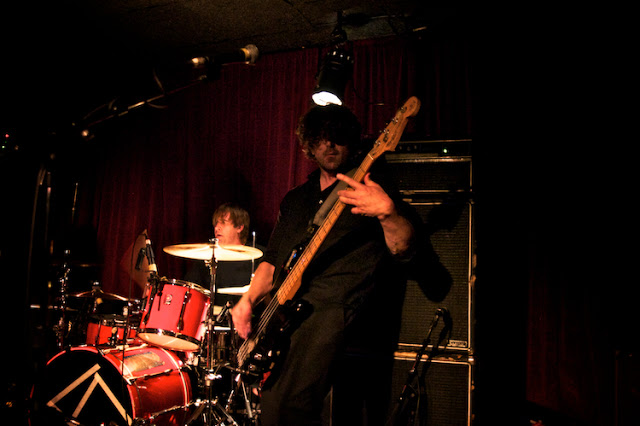 [Photo by Chris Gersbeck for Fucking Nostalgic]
The age-old debate I have with myself about going to Maxwell's, especially on a weekend: Will this show be worth waiting for the PATH at 3 a.m.?  The thing is, every time you talk yourself out of a Maxwell's show, you're probably wrong.  If I hadn't hit this Sebadoh show in this intimate (and for Manhattan/Brooklynites, remote) venue – despite that they were down the street at Music Hall of Williamsburg the following night – I'd have missed out.  This freewheeling show felt like seeing Lou Barlow and the reunited band appear in your living room.  Lou in particular was relaxed and chatting with the crowd, clearly enjoying the chance to keep things loose.  It didn't hurt any that Lou and the band had plenty of friends in the crowd, many of whom could be heard ribbing him throughout the show.  Oh, and did you know "Willing to Wait" from Harmacy was going to be Ross and Rachel's breakup song on Friends?  Well, now you do.  And tonight's show-closing rendition – perhaps to spite the "flat" recording of the song that Lou hated – was pure, magical rock n' roll.
The band were once known as "lo-fi pioneers", but like many of their contemporaries from the early 90s, they've developed into serious players (one of Lou's anecdotes concerned the $1000 guitar he was playing).  This set was Springsteen-esque in its sprawl – the first 13 tracks occur in the first half-hour of the nearly two-hour set – but given their large catalog of two- and three-minute songs, Sebadoh had a lot of ground to cover.  While rockers like "License to Confuse" are always thrillers, it was the band's slower numbers like "Dream", the poignant "Soul and Fire" and the band's classic "Together or Alone" that stood out, allowing Barlow's lyrics to shine.  The set focused primarily on the band's more hook-driven, lyrical numbers, rather than some of the Eric Gaffney-penned more punkish material, and to good effect.  Among the band's records, Bakesale was particularly well-represented (and also was just re-released this year by Sub Pop), as was Bubble and Scrape, while their seminal III, the first with Jason Loewenstein, was mostly-ignored.  By the end of the set, it was hard to imagine a favorite Sebadoh song the band didn't play at this show, and indeed, I can't think of one.  The PATH trade ride home was a long one, but damn, it was worth it.
I recorded this set with the Schoeps supercardiod microphones and a soundboard feed from Mitch, a new FOH engineer at Maxwell's, who did a flawless job with the house mix all night.  The results are truly outstanding, absolutely one of my finest recordings of the year, and by far the finest fan recording of this band I have ever heard – yes, it's that good.  Enjoy!
Stream "Willing to Wait"
[audio:http://www.nyctaper.com/S1111Sebadoh2011/39 Willing to Wait.mp3]
Stream "Soul and Fire"
[audio:http://www.nyctaper.com/S1111Sebadoh2011/26 Soul and Fire.mp3]
Stream "Beauty of the Ride"
[audio:http://www.nyctaper.com/S1111Sebadoh2011/30 Beauty of the Ride.mp3]
Direct download of MP3 files [HERE] | Direct download of FLAC files [HERE]
If the FLAC link is not active, email nyctaper for the FLAC files
Follow acidjack on twitter
Note: All of the material on this site is offered with artist permission, free to fans, at our expense. The only thing we ask is that you download the material directly from this site, rather than re-posting the direct links or the files on other sites without our permission. Please respect our request.
Sebadoh
2011-11-11
Maxwell's
Hoboken, NJ USA
An acidjack master recording
Recorded and produced by acidjack for nyctaper.com
Schoeps MK41 (LOC, at SBD, DINa)>KCY>Littlebox + Soundboard >> Edirol R-44 [Oade Concert Mod]>Audition (balance, mixdown)>Audacity (tracking, set fades, amplify and balance)>FLAC ( level 8 )
Tracks
01 [intro banter]
02 Too Pure
03 [banter]
04 On Fire
05 Skull
06 Rebound
07 Ocean
08 [banter]
09 Magnet's Coil
10 [banter]
11 Shit Soup
12 Mind Reader
13 Got It
14 Love to Fight
15 Drag Down
16 [banter]
17 Dreams
18 The Freed Pig
19 License to Confuse
20 Sister
21 Dramamine
22 Crystal Gypsy
23 Careful
24 Bird In the Hand
25 [banter]
26 Soul and Fire
27 Two Years Two Days
28 Not A Friend
29 Together or Alone
30 Beauty of the Ride
31 Forced Love
32 Sixteen
33 [encore break]
34 Give Up
35 New Worship
36 Brand New Love
37 Not Too Amused
38 [banter]
39 Willing to Wait
If you enjoyed this recording, PLEASE SUPPORT Sebadoh, visit their website, and buy their official releases, including Bakesale, [HERE]