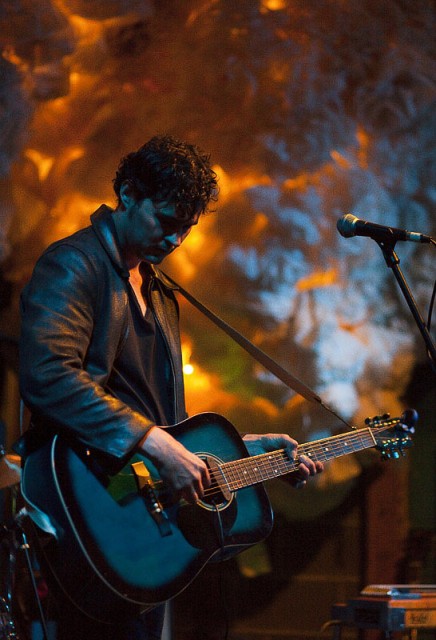 [photo by David Andrako]
If you haven't heard a truly great voice lately, you might want to check out Daniel Wayne. There's no doubt that distinguishing yourself as a singer-songwriter can be difficult; it's a style where it's easy to be mediocre, difficult to be great. But that voice puts to rest the doubters – sweet through the middle and upper ranges and flawless on the high notes, Wayne is instantly recognizable as well as accessible. A good example can be heard on the haunting, lonely solo number, "Pub's Crawl", which also takes an abrupt turn into a religious hymn at the end. Humble and appreciative between songs, the Ohio native comes across likable as well (the Midwestern thing again?). As for his songs, many are tinged with a light country twang, and navigate both indie gloom and homespun folk themes with equal skill.
I will admit that I had not heard of Wayne before I caught this Glasslands Gallery set opening for Jessica Lea Mayfield (that recording here), but apparently I was behind the curve. A sizable crowd showed up to catch his opening set, and by the end, a pretty full house was paying rapt attention. Wayne split the set equally between solo acoustic and full-band electric numbers, and we have served up a streaming example of each below (along with the complete-set download, of course). When the full band comes in during the first chorus of "Birds," you can tell that Wayne's big voice is equally if not better suited to the full-band treatment. The full-band songs also give Wayne a broader palette for his arrangements, and he takes full advantage on songs like the countrified "Virgin Saint", streaming below. Despite being the first opener of the night, Wayne put forth a full 50-minute set that alone was worth the show's price of admission. As Wayne himself put it in a recent interview on the CBS News website, "Every time I get on the stage, I give it everything I have." This was only my first Daniel Wayne performance, but that sure seemed to be the case.
I recorded this set with Schoeps MK22 "open cardiod" microphones and a flawless soundboard feed provided by Josh Thiel, the house engineer at Glasslands. The sound is outstanding. Enjoy!
Stream "Virgin Saint"
[audio:http://www.nyctaper.com/D1117DanielWayne2011/09 Virgin Saint.mp3]
Stream "Pub's Crawl"
[audio:http://www.nyctaper.com/D1117DanielWayne2011/04 Pub's Crawl.mp3]
Direct download of MP3 files [HERE] | Direct Download of FLAC files [HERE].
Follow acidjack on Twitter
Note: All of the material on this site is offered with artist permission, free to fans, at our expense. The only thing we ask is that you download the material directly from this site, rather than re-posting the direct links or the files on other sites without our permission. Please respect our request.
Daniel Wayne
2011-11-17
Glasslands
Brooklyn, NY USA
An acidjack master recording
Recorded and produced by acidjack for nyctaper.com
Schoeps MK22 (DFC, POS)>CMC6>Sound Devices USBPre + Soundboard >> Edirol R-44 [Oade Concert Mod]>2x24bit/48kHz WAV>Audition (mixdown)>Audacity (set fades, tracking, amplify and balance, downsample)>FLAC ( level 8 )
Tracks
01 The Fool
02 The Dog
03 [banter]
04 Pub's Crawl
05 Beautiful Day
06 Poseidon's Drownin' Son
07 [banter]
08 Birds
09 Virgin Saint
10 Far From Here
11 [banter]
12 My Bed
13 untitled
If you enjoyed this recording, PLEASE SUPPORT Daniel Wayne, visit his website, and purchase his 4-song EP directly from Amazon.