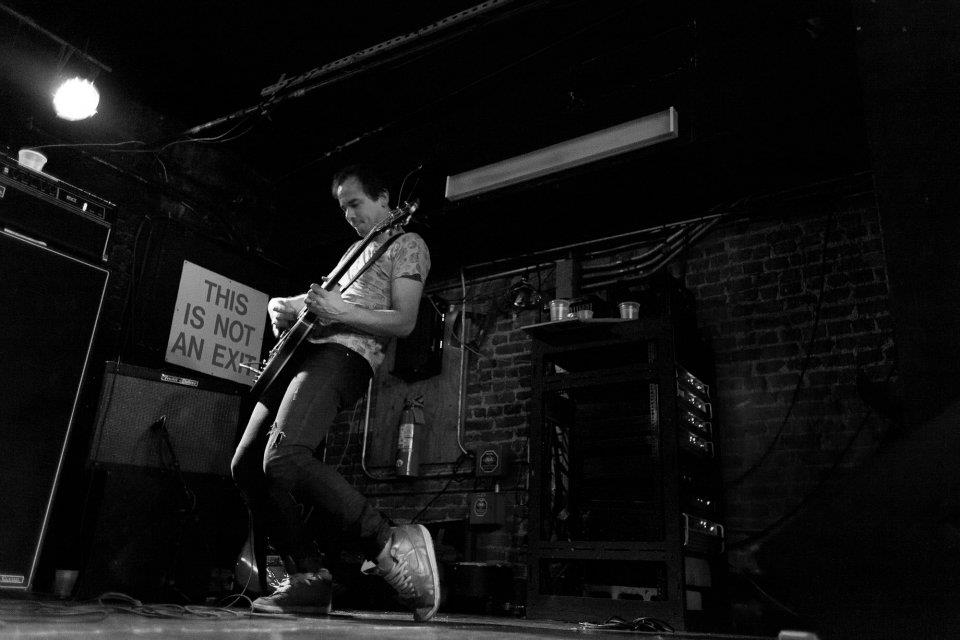 [Photo courtesy of the band and hosted at the band's Facebook page]
I started my musical 2012 off right with a dose of feel-good rock from Brooklyn's Clear Plastic Masks at the always-welcoming Mercury Lounge in Manhattan.  Despite the continuing interest in various forms of bedroom recordings and keyboard-and-loop heavy atmospherics in the Brooklyn scene, there remain a solid cadre of new bands making organic, straight-ahead rock, and CPM fall into that category.  The most obvious reference for their bluesy rock sound is The Black Keys, but being a four-man act (Charlie Garmendia on drums, Eddy DuQuesne on bass/keys, Matt Menold guitar/keys and Andrew Katz guitar/keys/vocals), they have a denser, richer sound that also draws from classic acts like Sam and Dave, the Violinaires, and Jimmie Rodgers.  The band puts that dense sound – and good humor – to good use in the live setting, cranking out the type of songs that shake asses and sell drinks.  It's not clear whether their new single, "Working Girl", intends the double-entrendre for that title, but this modern-day version of a blue collar lament makes a good starting point for understanding the band.  The song was recorded at the Bomb Shelter in Nashville for a forthcoming 7″ single, which will accompany the band's self-released, self-titled EP available at their bandcamp page.  The band have a relaxed, easy rapport with the crowd and clear enthusiasm for what they're doing, besides the ability to shred pretty hard – witness the guitar work on "Phoenix is Rising", streaming below. You can find out for yourself at their next NYC show tomorrow (Tuesday Jan 10) at Union Pool, after which they head on a southward tour that will wind up in New Orleans. Clear Plastic Masks also plan to dive in to recording a full-length record while down South – a good way to immerse themselves in their source material, for sure.
I recorded this set in our usual manner for Mercury, with Schoeps supercardiod microphones and a soundboard feed from Kevin, the head engineer at the club.  The results are outstanding. Enjoy!
Stream "Phoenix is Rising"

Audio clip: Adobe Flash Player (version 9 or above) is required to play this audio clip. Download the latest version here. You also need to have JavaScript enabled in your browser.
Stream "Working Girl"

Audio clip: Adobe Flash Player (version 9 or above) is required to play this audio clip. Download the latest version here. You also need to have JavaScript enabled in your browser.
Direct download of MP3 files [HERE] | Direct Download of the FLAC files [HERE].
Follow acidjack on twitter
Note: All of the material on this site is offered with artist permission, free to fans, at our expense. The only thing we ask is that you download the material directly from this site, rather than re-posting the direct links or the files on other sites without our permission. Please respect our request.
Clear Plastic Masks
2012-01-04
Mercury Lounge
New York, NY USA
Recorded and produced by acidjack
for nyctaper.com
Soundboard + Schoeps MK41>KCY>Naiant littlebox >> Edirol R-44 [Oade Concert Mod]>2x24bit/48kHz WAV>Audacity (mixdown, downsample to 44.1kHz, set fades, tracking, amplify and balance)>FLAC ( level 8 )
Tracks
01 [intro]
02 Death of Me
03 I'm Free
04 Outcast [Eddie and Ernie]
05 [banter]
06 Working Girl
07 [banter]
08 Pegasus and Glue
09 Rolling Down A Hill
10 [tuning]
11 Uncle Chris
12 Everything's Gonna Be Alright
13 [banter]
14 Phoenix Is Rising
15 Baby Come On
If you enjoyed this recording, PLEASE SUPPORT Clear Plastic Masks, visit their Facebook page, and download their self-titled EP from their bandcamp page.