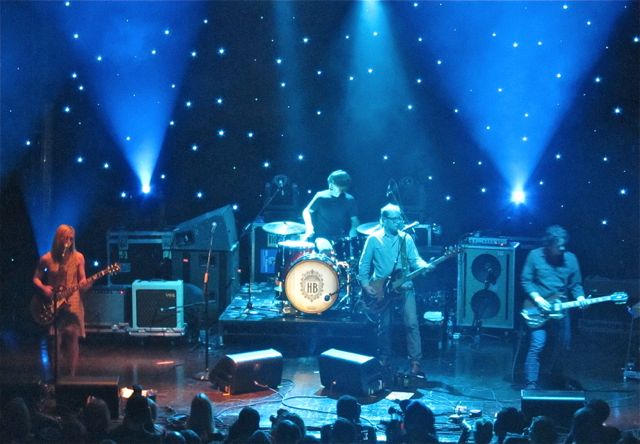 [photos by acidjack]
When their debut album Stairs and Elevators dropped seven years ago, Rolling Stone described the Heartless Bastards, accurately, as a small town (well, Cincinnati, anyway) band that was ready for the big time.  In 2012, with three more records under their belt, and their latest release, Arrow garnering solid-to-great reviews (The Onion's A.V. Club called it the band's best to date), I think it's safe to say that the big time has been hit.  This show at Webster Hall sold out handily, and even this Friday night crowd was mostly hanging on every word.  Brooklyn-based Partisan Records is no doubt proud of their latest signing and the album they've put out for them, which was produced by Spoon drummer Jim Eno in Austin.
Arrow, like the band's previous efforts, is a work of direct, honest American rock n' roll songcraft, but it is also a more focused one, stripped of some of the production flourishes of The Mountain and letting lyricist and frontwoman Erika Wennerstrom's voice and songwriting carry the load once again.  Arrow is obviously the product of a working, touring songwriter, and that gives it some instantly appealing thematic material to work with.  Also, as with a lot of the Bastards' work, the songs are just good.  The melancholy "Skin and Bone" was a favorite of mine when the band debuted it for New York audiences in two semi-acoustic shows last July at Mercury Lounge, and I'm pleased to say that the final album version was equally fantastic as a full-band number at Webster Hall.  As it deserved to, most of Arrow received some attention during the show, with songs like "Parted Ways,  "Only For You" and "Down In the Canyon" standing shoulder to shoulder with band classics like "Sway" and "All This Time" (whose live version always gets an extended drum intro from the band's underrated drummer Dave Colvin).  As Erika so aptly sings on "Low Low Low", "my future is bright".  We certainly agree.
I recorded this set with a soundboard mix provided by the band's engineer, Jack, and Schoeps MK5 cardiod microphones mounted at the corner of the soundboard booth in the balcony.  The results are truly outstanding.  Enjoy!
Thanks to Heartless Bastards, Partisan Records, and Bowery Presents for their hospitality.
Stream "Only For You"

Audio clip: Adobe Flash Player (version 9 or above) is required to play this audio clip. Download the latest version here. You also need to have JavaScript enabled in your browser.
Stream "Sway"

Audio clip: Adobe Flash Player (version 9 or above) is required to play this audio clip. Download the latest version here. You also need to have JavaScript enabled in your browser.
Stream "Low Low Low"
Audio clip: Adobe Flash Player (version 9 or above) is required to play this audio clip. Download the latest version here. You also need to have JavaScript enabled in your browser.
Direct download of MP3 files [HERE] | Direct download of FLAC files [HERE]
If the FLAC link is no longer working, email nyctaper directly.
Follow acidjack on twitter
Note: All of the material on this site is offered with artist permission, free to fans, at our expense.  The only thing we ask is that you download the material directly from this site, rather than re-posting the direct links or the files on other sites without our permission. Please respect our request.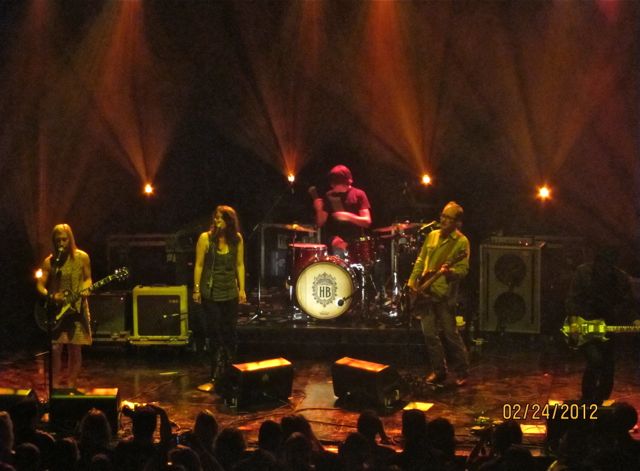 Heartless Bastards
2012-02-24
Webster Hall
New York, NY USA
Exclusive download hosted at nyctaper.com
Recorded and produced by acidjack
Schoeps MK5c>KC5>CMC6>Sound Devices USBPre2 + Soundboard >> Edirol R-44 [Oade Concert Mod]>2x24bit/48kHz WAV>Audition (various effects, EQ, resample to 44.1kHz)>Audacity (tracking, amplify and balance, downsample to 16bit)>FLAC ( level 8 )
Tracks [Total Time 1:35:20]
01 Marathon
02 Out At Sea
03 Parted Ways
04 Got To Have Rock N' Roll
05 [banter – intro Heidi Johnson]
06 Blue Day*
07 Only For You
08 Skin and Bone
09 Simple Feeling
10 The Arrow Killed the Beast
11 Low Low Low
12 The Mountain
13 Sway
14 Hold Your Head High*
15 Late In the Night
16 Down In the Canyon
17 [encore break]
18 All This Time
19 Nothing Seems the Same
If you enjoyed this recording, PLEASE SUPPORT Heartless Bastards, visit their website, and purchase Arrow from Partisan Records [HERE]