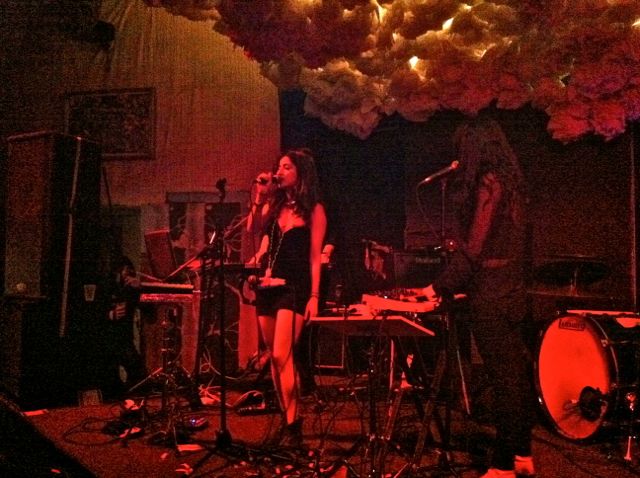 [Not very good photos in low light by acidjack. The recording is much better than the photos]
I first saw Zambri back in January of 2010 at Rock Shop (which predates their "first show" according to their Wikipedia page by about 8 months, but anyway), when sisters Cristi Jo and Jessica Zambri were still working out the kinks of their live act and presentation – though they were already pretty compelling.  By the time hi and lo and I caught them on this night at Glasslands nearly two years later, the group had just released their EP, Glossolalia, and polished the live versions of their songs – a difficult feat for songs constructed from layers of studio sounds.  Glossolalia is a thrilling EP for that reason, combining a scary and sexy vibe (see, for example, "Heather").  While the album is a great headphone listen, the songs work in the live setting as well, not least because the sisters have developed ways to let them move around the stage and perform rather than being stuck behind consoles all show.  Of the many times I have seen Zambri in the past couple years (including backing Hooray for Earth, whose Noel Heroux has a mixing credit on Glossolalia), this was by far the best.  If the sisters' forthcoming full-length, House of Baasa, has an album's worth of tracks of Glossolalia's quality, and keep performing like this, they should be finding themselves at the next level in no time.  We are streaming two of the best of the night's tracks, "Heather" and "To Keep Back", below.
Thanks to Kanine Records for permitting us to record and share this performance.  House of Baasa will be released on April 10.
hi and lo recorded this set with Schoeps MK5 cardiod microphones, his rare analog preamp and a soundboard feed.  While you can hear some DI noise in the board feed during quiet segments, the sound quality of this recording is outstanding.  Enjoy!
Stream "Heather"

Audio clip: Adobe Flash Player (version 9 or above) is required to play this audio clip. Download the latest version here. You also need to have JavaScript enabled in your browser.
Stream "To Keep Back"

Audio clip: Adobe Flash Player (version 9 or above) is required to play this audio clip. Download the latest version here. You also need to have JavaScript enabled in your browser.
Direct download of MP3 files [HERE] | Direct Download of the FLAC files [HERE]
Follow acidjack on twitter
Note: All of the material on this site is offered with artist permission, free to fans, at our expense. The only thing we ask is that you download the material directly from this site, rather than re-posting the direct links or the files on other sites without our permission. Please respect our request.
Zambri
2011-12-09
Glasslands
Brooklyn, NY USA
Exclusive download offered at nyctaper.com
Recorded by hi and lo
Produced by acidjack
Schoeps MK5c>CMR>PFA>EAA PSP2 + Soundboard>Tascam DR-680>2x24bit/48kHz WAV>Audacity (mixdown, set fades, tracking, amplify, balance, downsample)>FLAC ( level 8 )
Tracks
01 On Call
02 [unknown]
03 Carry
04 ICBYS
05 From the Start
06 Heather
07 To Keep Back
08 On Call (Biddibiddi)
If you enjoyed this recording, PLEASE SUPPORT Zambri, visit their website, like them on Facebook, and purchase Glossolalia directly from Kanine Records.