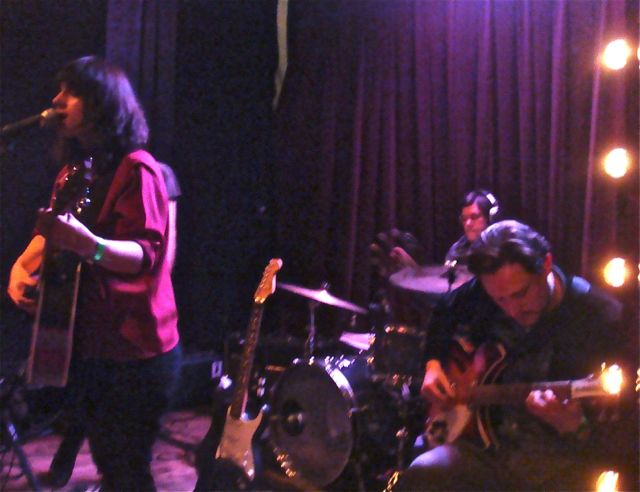 [Photos by acidjack and Johnny Fried Chicken Boy]
Natureboy ranks high among bands that we have been pulling for on this site.  While we have hosted shows that featured the band before, we were thrilled to have the chance to co-sponsor this show at Union Pool with Kevchino.  We are pleased to report that the band we saw was more mature and even sharper musically than before.  Since we last saw the band, they have added a drummer and keyboardist to give their Dylan-inspired folk-rock sound more muscle and rock n' roll presence.  Founder and frontwoman Sara Kermanshahi and the band have recorded a new, as-yet-untitled release at fellow bandmember Cedar Apffel's studio, and they served up a generous portion of that record with this set, including a favorite we had seen before and craved seeing again, "A Flame".  The band's newly-found live energy was palpable, and the five players easily filled the room with sound as Sara's voice remained, as it should be, the centerpiece.
Natureboy is exploring options for the release of this new record, and we expect a label to snap this up before they miss the chance. As they closed this set with the Smiths' "Back to the Old House" – one of many great covers we have heard from them – it was evident how Kermanshahi's unique singing style and vision is a perfect compliment to the band's now-classic sound.
I recorded this set with an excellent soundboard feed from the Union Pool FOH, plus Schoeps MK22 open cardiod mics.  The results are excellent.  Enjoy!
Thanks to Union Pool for their hospitality and to Kevchino for co-hosting the show and developing this great bill. 
Stream "Head to Toe"
Audio clip: Adobe Flash Player (version 9 or above) is required to play this audio clip. Download the latest version here. You also need to have JavaScript enabled in your browser.
Stream "Back to the Old House"
Audio clip: Adobe Flash Player (version 9 or above) is required to play this audio clip. Download the latest version here. You also need to have JavaScript enabled in your browser.
Direct download of MP3 files [HERE] | Direct Download of the FLAC files [HERE]
Follow acidjack on twitter
Note: All of the material on this site is offered with artist permission, free to fans, at our expense.  The only thing we ask is that you download the material directly from this site, rather than re-posting the direct links or the files on other sites without our permission.  Please respect our request.
Natureboy
2012-03-30
Union Pool
Brooklyn, NY USA
Exclusive download hosted at nyctaper.com
Recorded and produced by acidjack
Schoeps MK22 (ORTF, DFC, at SBD)>KCY>PFA>Sound Devices USBPre2 + Soundboard >> Edirol R-44 [Oade Concert Mod]>Audacity (mixdown, downsample, set fades, adjust levels, light EQ, tracking)>FLAC ( level 8 )
Tracks
01 Pariah
02 A Flame
03 [tuning]
04 Lexies
05 [banter/tuning]
06 Blow To the Head
07 Don't Worry
08 Head to Toe
09 Sight to See
10 Heart to Fool
11 [encore break]
12 Back to the Old House [The Smiths]
If you enjoyed this recording, PLEASE SUPPORT Natureboy, visit their MySpace page, and purchase their debut album from Bleek Records [HERE]