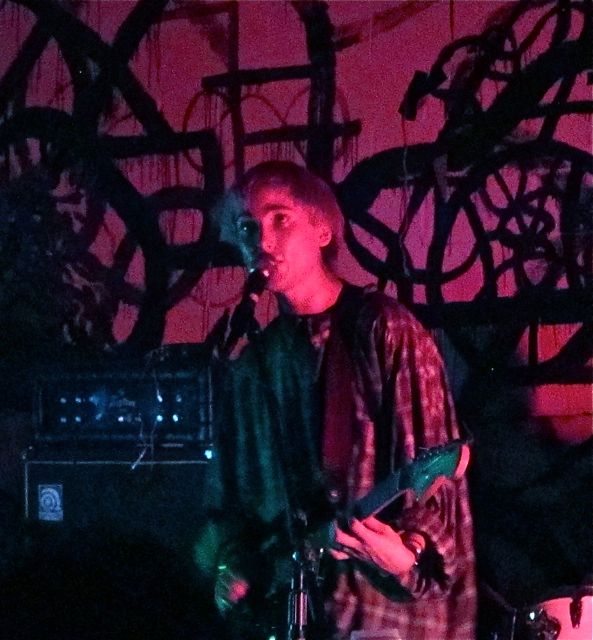 [Photos by acidjack]
Beach Fossils' Zachary Cole Smith is such an unabashed Nirvana fan that he named his new musical project "DIIV" after the band's b-side "Dive". This Friday night madhouse of a show at 285 Kent headlined by DIIV as a "secret guest" had much of the same  joyful chaos as the better shows of Nirvana's pre-Nevermind career. A full house packed 285 until it was a virtual sweat lodge, teeming with teenage bodies flying through the air, moshing and having a hell of a time (this all-ages show was also a celebration of somebody's graduation). DIIV tore through a good chunk of the numbers from their soon-to-be released album, Oshin, with Smith ruling the frenzied proceedings like a man who wasn't sweating bullets. The highlight of the night for me was an homage to Nirvana, when the band covered an extremely obscure unreleased Cobain song known to bootleg collectors as either "Bambi Slaughter" or "Creation". Even if DIIV aren't exactly Nirvana (yet anyway), the show was a reminder that rock n' roll isn't supposed to be tidy, or clean or safe – it's blood on the floor, bodies in the air, sweat soaking your shirt, heads banging, hair flying. It's wonderful, isn't it?
This was a very difficult recording environment and situation. The extreme levels of humidity and heat in the club played havoc with both the onstage equipment and my equipment, and there is some distortion in both the soundboard feed and in my microphones as a result. I spent several hours working on this to make it was good as I could, but it is still not a very good recording by the standards of this site. That said, it is still quite listenable, and an accurate representation of a very interesting and fun night.
Thanks to Ian Perlman for the setlist, and the inspiration to try and mix this thing down right.
Stream "Bambi Slaughter" [Nirvana]
Audio clip: Adobe Flash Player (version 9 or above) is required to play this audio clip. Download the latest version here. You also need to have JavaScript enabled in your browser.
Stream "Human"
Audio clip: Adobe Flash Player (version 9 or above) is required to play this audio clip. Download the latest version here. You also need to have JavaScript enabled in your browser.
Direct download of MP3 files [HERE]| Direct Download of the FLAC files [HERE]
Follow acidjack on twitter
Note: All of the material on this site is offered with artist permission, free to fans, at our expense. The only thing we ask is that you download the material directly from this site, rather than re-posting the direct links or the files on other sites without our permission. Please respect our request.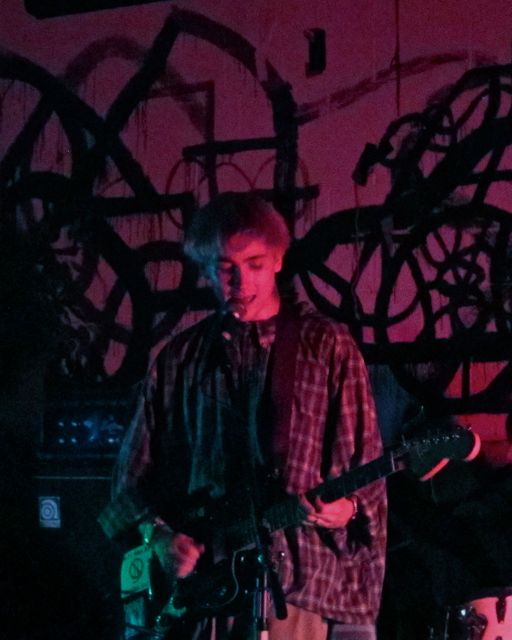 DIIV
2012-06-08
285 Kent
Brooklyn, NY USA
Recorded and produced by acidjack
Soundboard + Schoeps MK5 (omni, A-B)>KCY>Z-PFA>Sound Devices USBPre2>>Edirol R-44 [Oade Concert Mod]>2x24bit/48kHz WAV>Izotope Ozone 5 (various edits, EQ and changes)>Audition CS 5.5 (mixdown)>Izotope Ozone 5 (further edits)>Audacity (set fades, balance, tracking, amplify, downsample)>FLAC ( level 8 )
Tracks
01 Druun
02 Past Lives
03 Human
04 Big Joke
05 Air Conditioning [w/ "All Apologies" tease]
06 How Long Have You Known
07 [tuning]
08 Wait
09 Follow
10 Sometime
11 Bambi Slaughter [Nirvana]
12 Doused
If you enjoyed this recording, PLEASE SUPPORT DIIV, like them on Facebook, pre-order Oshin from Insound, and be on the lookout for their upcoming shows in the area, including Saturday June 23rd at Glasslands.