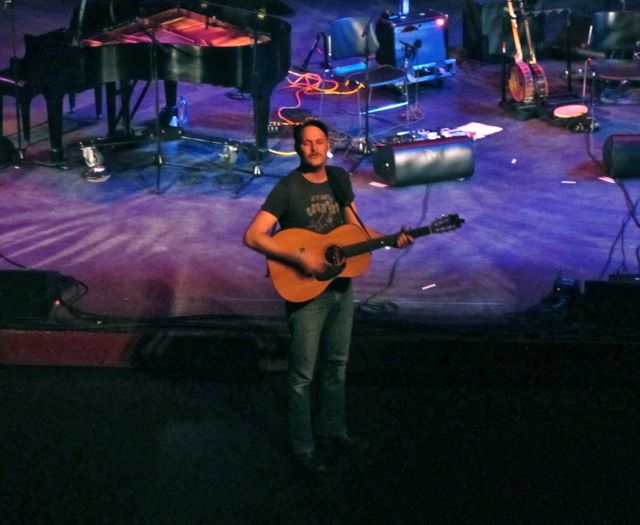 [Photos by acidjack]
It's a fitting coincidence that as the third annual Hopscotch Music Festival took place in venues across downtown Raleigh, North Carolina, the Democratic Party gathered for its annual convention in Charlotte a few hours south to officially re-nominate the nation's first black President. People unfamiliar with North Carolina have a habit of lumping it in with places that have little to do with it; witness the epithets thrown at the state following the passage of the state's anti-gay marriage amendment. Like every state in this Union (including New York, where gay marriage didn't exactly pass by overwhelming margins), North Carolina is a complicated jumble of old and new, and the negative things I saw people saying on social media and elsewhere didn't square with the place I lived in eleven years ago. What I saw during this past weekend bested my highest expectations for the area's future; more than ever, the Raleigh-Durham-Chapel Hill area (the "Triangle", as it's known) is a place of big, positive things. Hopscotch – of, by and for the vibrant music scene of the Triangle – in many ways is a microcosm of modern North Carolina. And if one single artist could encapsulate all that was good about Hopscotch, I would submit that it's the Durham, NC based songwriter MC Taylor, aka Hiss Golden Messenger.
Taylor took the Fletcher Opera Theater stage in the dark, the room so quiet we could hear his footsteps.
"Hey now, brother, don't you know the road?" he called out, voice as sweet as that tea they like to drink down here.
And as they walked on, his current bandmates responded back: "Yes, my brother, I know".
The classic blues call-and-response builds for a few minutes, as Taylor's fellow players (an all-star cast consisting of, among others, the Nashville guitarist William Tyler and Phil and Brad Cook of Megafaun) take the stage behind him.
"I was no good and I was all alone," Taylor sings, that sweetness rent with heartbreak.
"Yes, my brother, I know".

The verses of "Brother, Do You Know the Road" continue until they build to an extended instrumental bridge, Tyler wailing a mournful line on his Telecaster, and ending, as it began, with that call-and-response. And that's only the first few minutes of an hour-long set so beautiful it brought me to tears a couple of times. Taylor's voice is spine-tingling good, with the songs to match.
This show never slowed from those first verses of "Brother", as the band – who had never played together as a complete unit before this show – jelled into a formidable seven-piece that added a wealth of new texture to Taylor's compositions. Along with "Brother," Taylor played the as-yet unreleased "Red Rose Nantahala", a bluegrass-tinged number in which Nathaniel Bowles' (of the Black Twig Pickers) banjo lead melded with Tyler's electric guitar. "Jesus Shot Me In the Head" was treated to a meditative, extended intro that accentuated its psychedelic leanings. Rather than a new band, this one sounded like a group of longtime collaborators; it couldn't hurt that many of them are friends, and some had played on Taylor's latest record, Poor Moon.  But really, even with a crack band, the centerpiece of Hiss Golden Messenger is always Taylor and his voice, and this intimate theater proved to be the perfect venue to showcase Taylor's abilities. The band closed with "Super Blue (Two Days Clean)", a rocking song about an addict's welcome of a relapse. Charley Patton might have found a lot to like in Taylor's lyrics, and he'd probably have been jealous of the quality of the players behind it.
Despite a much-deserved spate of recent positive press, Taylor still doesn't play out much other than in North Carolina, where his legend is spreading. He has released a few records, including the hard-to-find Bad Debt LP of roughshod motel blues, the pop-veering Country Hai East Cotton, and the aforementioned current masterpiece, Poor Moon. Poor Moon, consisting partly of filled-out versions of the Bad Debt material, saw limited release on North Carolina's Paradise of Bachelors imprint in 2011 before being re-released more widely by the Tompkins Square label (and re-pressed by Paradise of Bachelors) in 2012. Drenched in the blues, gospel, bluegrass and Appalachian folk, Poor Moon is an almost flawless work of songwriting in which Taylor melds those classic styles into a new form that is distinctly his. A lecturer on folklore, it is no surprise that Taylor is an expert on this area's rich past.
This was my favorite by far, but this set from Taylor is one of many, many magical moments at this year's Hopscotch. Co-founders Grayson Currin (a Pitchfork contributor) and Greg Lowenhagen and their team have created something truly special down in North Carolina. At this rate, it won't be long before the Triangle is joining or even replacing the Austins of the world near the top of the U.S. musical conversation. Brother, now you know.
I recorded this set with Schoeps MK5 microphones from the center of the balcony. Due to a battery failure, the last few minutes of the last song are patched from an inferior backup source, but other than this small flaw, the recording is excellent. Enjoy!
Stream "Jesus Shot Me In the Head"

Stream "Call Him Daylight"

Direct download of MP3 files [HERE] | Direct download of FLAC files [HERE]
If the FLAC link is no longer working, email nyctaper for the FLAC files
Follow acidjack on twitter
Note: All of the material on this site is offered with artist permission, free to fans, at our expense. The only thing we ask is that you download the material directly from this site, rather than re-posting the direct links or the files on other sites without our permission. Please respect our request.
Hiss Golden Messenger
2012-09-07
Hopscotch Music Festival
Fletcher Opera Theater
Raleigh, NC USA
Exclusive download hosted at nyctaper.com
Recorded and produced by acidjack
Schoeps MK5 (cardiod, balcony, DFC, DIN)>KC5>CMC6>Edirol R-44 [OCM] + (last few minutes of last track only) Tascam DR-40 internal mics (X/Y)>>Audacity (set fades, tracking, EQ, amplify, balance, downsample)>FLAC ( level 8 )
Tracks
01 Brother, Do You Know the Road?
02 [band intros]
03 Call Him Daylight
04 Red Rose Nantahala
05 A Working Man Can't Make It No Way
06 Jesus Shot Me In the Head
07 [banter]
08 Drummer Down
09 O Nathaniel
10 Westering
11 O Little Light
12 Super Blue (Two Days Clean)
Musicians:
MC Taylor (Vocals, Acoustic Guitar)
Scott Hirsch (Bass Guitar)
William Tyler (Guitar)
Nathaniel Bowles (Banjo)
Terry Lonergan (Drums)
Phil Cook (Keyboards, Guitar)
Brad Cook (Electric Guitar)
If you enjoyed this recording, PLEASE SUPPORT Hiss Golden Messenger, like him on Facebook, and purchase Poor Moon on digital or vinyl from Paradise of Bachelors [HERE] and all of his releases on vinyl [HERE].