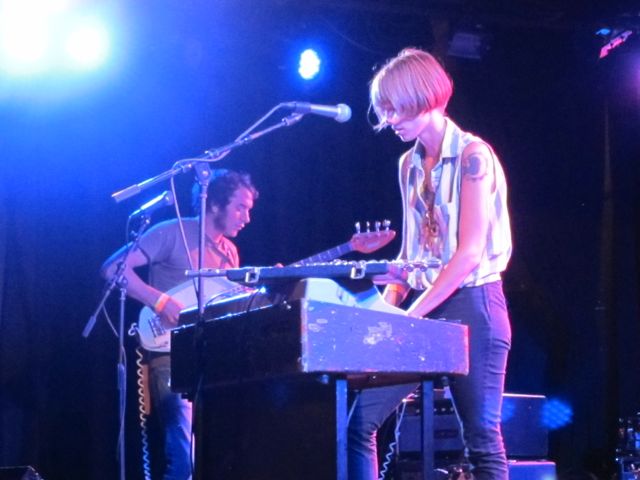 [Photos by acidjack]
We first checked in with the Dover, NH psych rockers MMOSS back in May, when they opened for Woods at 285 Kent. This show at the somewhat more "formal" Knitting Factory in Brooklyn gave the band an opportunity to wow Brooklyn audiences with a significantly more capable sound system, and the results show in this recording. As with the May show, the band played a five song set that ended with the mammoth "War Sux", though this set swapped in their April single release, "Spoiled Sun", which became another of our favorites immediately. With the addition of flute to the mix of organs and guitars, MMOSS has a distinctly retro vibe that puts them in good company with many 60s forebears, and their album i is, as we noted before, a collection of instant classics. "War Sux" was even more extended this night than at the last show, giving the band a chance to show off their jamming chops.
I recorded this set with Schoeps MK5 microphones and a soundboard feed from the Knit's engineer, Rob. The sound is excellent.  Enjoy!
Stream "Spoiled Sun"
[audio:http://www.nyctaper.com/M0505MMOSS1202/04 Spoiled Sun.mp3]
Direct download of MP3 files [HERE] | Direct download of FLAC files [HERE]
Follow acidjack on twitter
Note: All of the material on this site is offered with artist permission, free to fans, at our expense. The only thing we ask is that you download the material directly from this site, rather than re-posting the direct links or the files on other sites without our permission. Please respect our request.
MMoss
2012-08-06
Knitting Factory
Brooklyn, NY USA
Exclusive download hosted at nyctaper.com
Recorded and produced by acidjack
Schoeps MK5>KCY>Z-PFA>Sound Devices USBPre2 + Soundboard >> Edirol R-44 [OCM]>2x24bit/48kHz WAV>Audition CS 5.5 (mixdown)>Izotope Ozone 5 (EQ, effects)>Audacity (set fades, EQ, tracking, amplify, balance, downsample)>FLAC ( level 8 )
Tracks
01 Wonder
02 Another Day
03 Another Dream
04 Spoiled Sun
05 War Sux
If you download this recording from nyctaper, we expect that you will PLEASE SUPPORT MMOSS, visit their Bandcamp and Facebook pages, and purchase their album i from Burger Records [HERE].