[Photo from the Three Lobed/WXDU show by Abby Nardo. All rights reserved.]
The Nashville-based guitarist William Tyler was everywhere during this year's Hopscotch Music Festival. Much like improviser-in-residence Chris Corsano, festivalgoers might see Tyler pop onstage with any number of bands – and we saw his join several, including Megafaun and Hiss Golden Messenger, as well as his own Lambchop. But folks also know Tyler as a solo artist of some renown, especially after his 2010 full length, Behold the Spirit.  Tyler's playing runs the gamut of influences, from American-style finger picking to Indian ragas, and any given show of his is likely to wow even the most seasoned veteran of the instrument.
I first saw Tyler last year at Glasslands,  and was excited to catch two additional sets at Hopscotch down in Raleigh, NC. The first, an intimate performance on a tiny upstairs stage of the Raleigh restaurant and bar Busy Bee, was a mostly-different setlist than the 2011 show we saw, and included the new song "Oahspe" from Tyler's 2012 seven-inch release. Any chance to witness Tyler's virtuosity on his instrument is a can't-miss, so I was thrilled that my friend Cory Rayborn had managed to book Tyler as part of his Three Lobed Recordings/WXDU Day Show the following day at the Raleigh venue King's Barcade. That shorter set reprised "Oahspe" plus "Crystal Palace, Sea of Glass", "Tears and Saints" and "Impossible Truth". Tyler was clearly among friends at the day show, which was full with like-minded musicians from various corners of the avant-Americana galaxy and beyond. I would not be surprised to find Tyler himself as a future "improviser in residence" given what we saw here.
I recorded the Busy Bee set with a very simple stereo recorder placed in front of Tyler onstage, and the Three Lobed/WXDU show with Schoeps MK5 microphones in the omnidirectional setting onstage, plus a soundboard feed provided by the outstanding engineers at King's.  Both are excellent renditions of their respective performances. Enjoy!
Stream "Cult of the Peacock Angel" from Busy Bee:

Stream "Oahspe" from the Three Lobed/WXDU show:

Direct downloads:
Busy Bee MP3 files [HERE] | Busy Bee FLAC files [HERE]
Three Lobed/WXDU MP3 files [HERE] | Three Lobed/WXDU FLAC files [HERE]
If the FLAC link is no longer working, email nyctaper for the FLAC files
Check out all of NYCTaper's Hopscotch Festival recordings
Follow acidjack on twitter
Note: All of the material on this site is offered with artist permission, free to fans, at our expense. The only thing we ask is that you download the material directly from this site, rather than re-posting the direct links or the files on other sites without our permission. Please respect our request.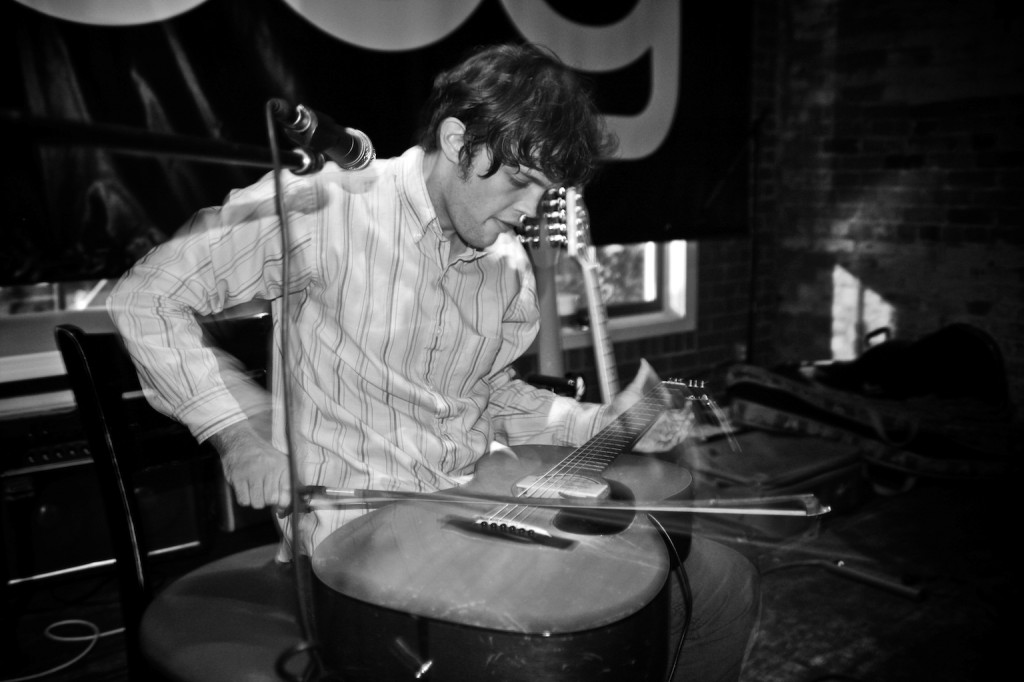 [Photo from Busy Bee by PJ Sykes]
William Tyler
2012-09-06
Hopscotch Music Festival
The Hive at Busy Bee
Raleigh, NC USA
Recorded and produced by acidjack
Tascam DR-40 (internal mics, onstage, ORTF)>24bit/48kHz WAV>Audacity (set fades, tracking, DR compression, amplify, balance, downsample)>FLAC ( level 8 )
Tracks
01 Tears and Saints
02 Impossible Truth
03 [banter]
04 Oahspe
05 Missionary Ridge
06 [banter]
07 Cult of the Peacock Angel
08 A Portrait of Sarah
________________________
William Tyler
2012-09-07
Three Lobed/WXDU Day Show
King's
Raleigh, NC USA
Recorded and produced by acidjack
Soundboard + Schoeps MK5 (omni, onstage, split)>KC5>CMC6>>Edirol R-44 [OCM]>2x24bit/48kHz WAV>Audition CS 5.5 (mixdown)>Audacity (set fades, tracking, amplify, balance, downsample)>FLAC ( level 8 )
Tracks
01 [intro]
02 Oahspe
03 Tears and Saints
04 Impossible Truth
05 Crystal Palace, Sea of Glass
If you enjoyed this recording, PLEASE SUPPORT William Tyler, visit his website, and purchase Behold the Spirit from Amazon or your favorite retailer. Find more information about Three Lobed Recordings [HERE]