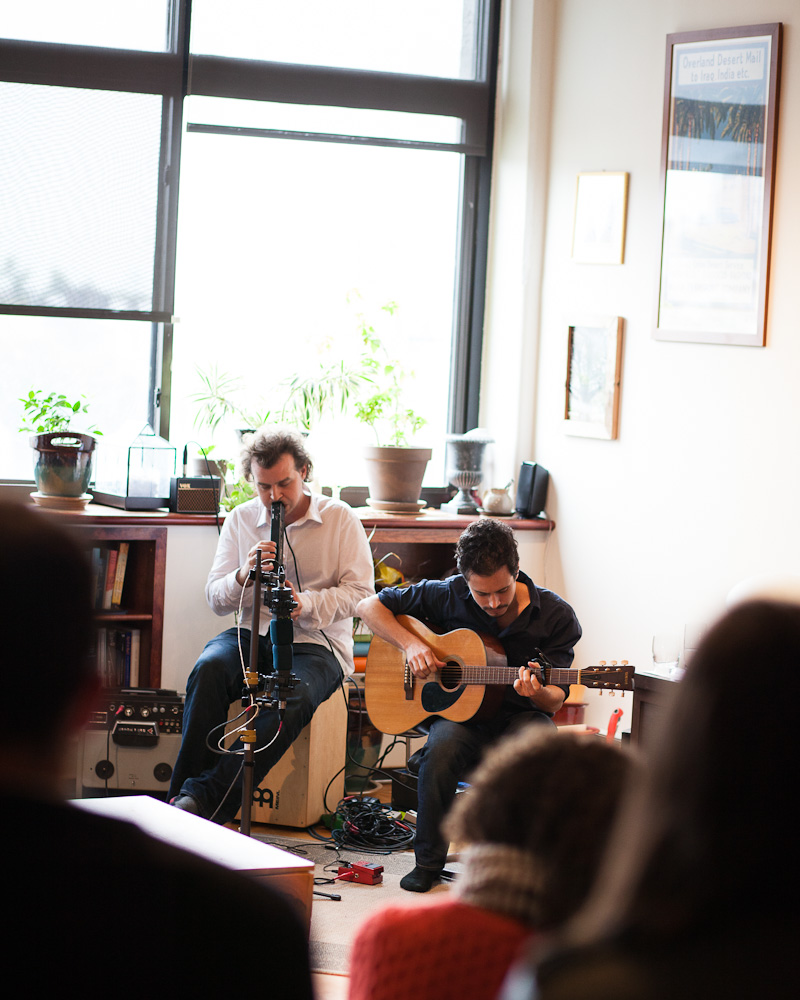 [Photos by Dominick Mastrangelo]
Thieving Irons, the current project of Brooklyn musician Nate Martinez, is a fairly gentle, vibey sort of band even in its electric format, so I was excited to see how their sound would change in a true "acoustic" setting. The band's second album, Behold, This Dreamer! is a lovely piece of rainy-afternoon music, with gauzy production and at-times confessional lyrics that also incorporate historical and literary references. This most recent installment of the Backyard Brunch Sessions – held due to weather in a Prospect Heights apartment – gave Martinez the chance to distill his vision further, stripping his band to a duo of himself on vocals and guitar and longtime collaborator Dan Brantigan on a rare instrument called the EVI (a sort of synth trumpet, and a large component of that "vibey" sound). As a crowd gathered around with organizer David Chaitt's spicy granola (made spicy by local Mike's Hot Honey), Martinez and Brantigan played us eight songs that represented the range of Martinez's current vision, all of them but two from Behold.
Two of the album's biggest rockers, "Sleepwalking Into the Ocean" and "So Long" were among my favorite reinterpretations, not least because they differed the most from the album tracks. Even without the anthemic guitars and keyboards, "Sleepwalking" retained its resolute hopefulness and uplift; the poetry of "So Long" – possibly the album's most memorable song – shone through, as Brantigan's EVI provided a spare dreamscape in the background. Another of the show's highlights, dedicated to GOP presidential candidate Mitt Romney, was a cover of the Kinks classic "Strangers", a song that ought to resonate in a modern, more self-absorbed time. The band closed with "Gentle Hands", a pastiche of images that, at its conclusion, suggests a longing for home.
I recorded this set with AKG 414 large-diaphragm microphones set to "wide cardiod" in an X/Y pattern (pictured below) in order to reduce the directionality and provide a more stable stereo image. The sound is excellent. Enjoy!
Stream "So Long"

Direct download of MP3 files [HERE] | Direct download of FLAC files [HERE]
If the FLAC link is no longer working, email nyctaper for the FLAC files
Follow acidjack on twitter
Note: All of the material on this site is offered with artist permission, free to fans, at our expense. The only thing we ask is that you download the material directly from this site, rather than re-posting the direct links or the files on other sites without our permission. Please respect our request.
Thieving Irons
2012-10-07
Backyard Brunch Sessions
Brooklyn, NY USA
Hosted at nyctaper.com
Recorded and produced by acidjack
AKG C 414 B-XLS (wide cardiod, x/y)>Edirol R-44 [OCM]>24bit/48kHz WAV>Adobe Audition CS 5.5 (set fades, compression, adjust L/R balance, cleanup)>Izotope Ozone 5 (EQ, exciter, imaging)>Audacity 3.0 (tracking, amplify, balance, downsample)>FLAC ( level 8 )
Tracks
01 [intro]
02 Babylon
03 End of September
04 Behold, This Dreamer!
05 Sleepwalking Into the Ocean
06 So Long
07 Swimming With Minnows
08 [banter]
09 Strangers [The Kinks]
10 Gentle Hands
If you enjoyed this recording, PLEASE SUPPORT Thieving Irons, like them on Facebook, and buy their records and merchandise from their online store [HERE]