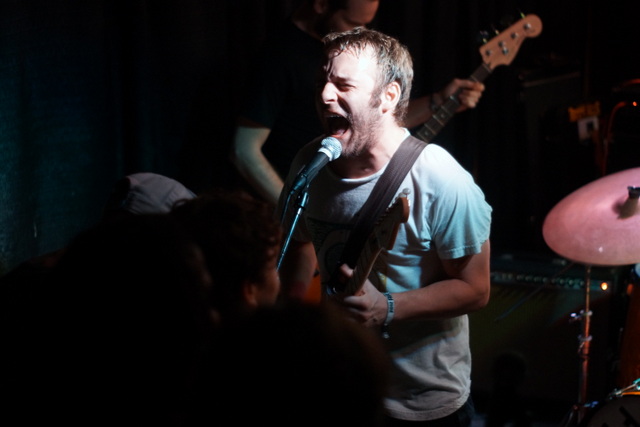 [Photo courtesy of Ash Crowe]
The Raleigh, North Carolina band Whatever Brains are such a fine example of sneering garage punk that my buddy Chaz of Durham, NC's best record store, Bull City Records, was inspired to create his own record label just to put out their first 7-inch. Now two full LPs in after only a year, the band have continued to refine their sound, ditching some of the more "adventurous" elements of their first LP (electronic drums, anyone?) in favor of a more cohesive, direct sound. The results proved all positive at this Hopscotch Music Festival show at the tiny Raleigh dive bar Slim's, where the Brains gave a 42-minute burner of a set.
As befits the band's style, this a more-or-less raw recording made by NC taper Dave S from mics installed in the ceiling. While the recording is less polished than much of what we offer on this site, both we and the band agree that this is a capture worth sharing with the wider world. Enjoy!
Stream "Blues Lawyer"

Direct download of MP3 files [HERE] | Direct download of FLAC files [HERE]
If the FLAC link is no longer working, email nyctaper for the FLAC files
Follow acidjack on twitter
Check out all of NYCTaper's Hopscotch Festival recordings
Note: All of the material on this site is offered with artist permission, free to fans, at our expense. The only thing we ask is that you download the material directly from this site, rather than re-posting the direct links or the files on other sites without our permission. Please respect our request.
Whatever Brains
2012-09-08
Hopscotch Music Festival
Slim's
Raleigh, NC USA
Recorded and produced by Dave Schwentker
Hosted at nyctaper.com
Recording Equipment: Countryman B3 (ceiling installation)>Church Audio CA-9100>Olympus LS-10
Tracks [Total Time 42 minutes]
01 [intro]
02 Saddle Up
03 The Fisher
04 Drink the Sale
05 Blues Lawyer
06 The Future of Porn
07 Marquee Welfare
08 [unknown 1]
09 [unknonw 2]
10 [break]
11 Escape [?]
12 The Petfinder
13 [encore break]
14 Math
If you enjoyed this recording, PLEASE SUPPORT Whatever Brains, check out their bandcamp page, and purchase their LPs from Sorry State Records [HERE]