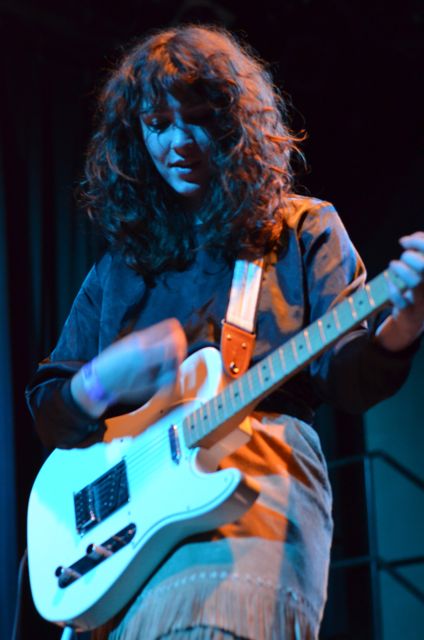 [photos by P-Squared Photography]
Among us, we have seen Brooklyn's Widowspeak at least seven times in the past couple of years, including hosting them at last year's NYCTaper CMJ Day Show. What we have seen each time is a band that keeps getting better and, most crucially, continuing to write great new songs. True to form, half of the songs played during this opening set for Woods at Music Hall of Williamsburg were new (relative to their LP), and they stood up well alongside some of the best numbers from their 2011 self-titled LP like "In the Pines". Of the newer material, four of these songs will appear on the band's second Captured Tracks LP, Almanac, which comes out on January 22.  I continue to be amazed at the depth added to the band's sound by the addition of Pamela Garabano-Coolbaugh on bass, as it gives lead guitarist Robert Thomas and singer/guitarist Molly Hamilton more room to focus on their own guitar work. Sonically, Widowspeak is a moody, downbeat band, but they are clearly enjoying the ride; even if they don't sound like it, they look like they're having a lot of fun up there. With the band's next NYC show scheduled for their record release date of January  22 at Mercury Lounge, we have plenty to look forward to from Widowspeak in 2013.
nyctaper and I recorded this set with my Schoeps MK41 microphones and an excellent soundboard feed by the house engineer, Ian, at MHOW.  The sound is excellent. Enjoy!
Stream "Sore Eyes"

Direct download of MP3 files [HERE] | Direct download of FLAC files [HERE]
If the FLAC link is no longer working, email nyctaper for the FLAC files
Follow acidjack on twitter
Note: All of the material on this site is offered with artist permission, free to fans, at our expense. The only thing we ask is that you download the material directly from this site, rather than re-posting the direct links or the files on other sites without our permission. Please respect our request.
Widowspeak
2012-11-03
Music Hall of Williamsburg
Brooklyn, NY USA
Exclusive download hosted at nyctaper.com
Recorded and produced by acidjack
Schoeps MK41 (DIN, DFC)>KC5>CMC6>Sound Devices USBPre2 + Soundboard (engineer: Ian)>>Edirol R-44 [OCM]>2x24bit/48kHz WAV>Audacity 3.0 (mix down, set fades, tracking, amplify, balance, light EQ)>FLAC ( level 8 )
Tracks
01 Perennials
02 Devil Knows
03 Gun Shy
04 7 Minutes
05 Harsh Realm
06 Ghost Boy
07 Sore Eyes
08 Spirit is Willing
09 In the Pines
10 Nightcrawlers
If you enjoyed this recording, PLEASE SUPPORT Widowspeak, visit their Facebook page, visit their Bandcamp page, and purchase their LP Widowspeak from Captured Tracks.