[Photos by Dominick Mastrangelo]

Hospitality's eponymous LP on Merge Records was one of the more underrated records of 2012. Short on gimmicks but filled with concise pop songwriting and excellent hooks, Hospitality is one of those records that may not blow your mind, but it can make your afternoon.  Here in New York, the band sold out Glasslands handily for the record release party, and played other area shows at bigger venues like Brooklyn Bowl. But their Bowery moment ended up being postponed; this show was originally scheduled for the week in the wake of Hurricane Sandy, when Manhattan's best-loved venue was without power. Despite that bit of bad luck, the band put on a hell of a show for us at this rescheduled date. Along with some of their finest ear worms like "Friends of Friends" and "Betty Wang", the band debuted three new songs, "Nightingale", "Experience" and "Going Out". But the set's highlight may have been them playing both sides of their 2012 seven-inch release back-to-back in a seamless jam, with "The Drift" moving seamlessly into "Monkey". The new songs have a slightly harder edge, and that suits the band well. I am glad they got this much-deserved second chance at their Bowery moment; Hospitality has much more to offer.
I recorded this set with Schoeps MK5 cardiod microphones and an excellent soundboard feed from the Bowery Ballroom's longtime FOH, Kenny, with the band's mix provided by Hospitality's own FOH, Jiwoo Han. The sound is excellent. Enjoy!
Direct download of the complete show: [MP3] | [FLAC]
If the FLAC link is no longer working, email nyctaper for the FLAC files
Follow acidjack on twitter
Note: All of the material on this site is offered with artist permission, free to fans, at our expense. The only thing we ask is that you download the material directly from this site, rather than re-posting the direct links or the files on other sites without our permission. Please respect our request.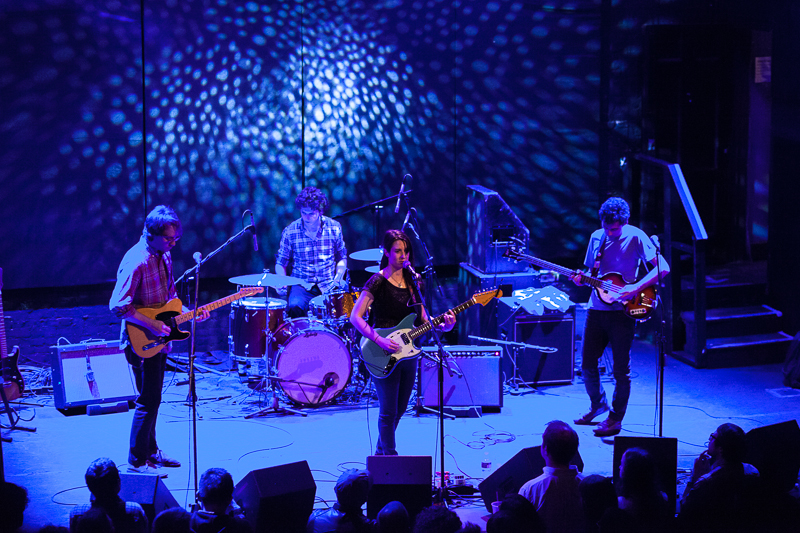 Hospitality
2013-01-10
Bowery Ballroom
New York, NY USA
Exclusive download hosted at nyctaper.com
Recorded and produced by acidjack
Schoeps MK5 (cardiod, slightly LOC, DIN, balcony)>KCY>Z-PFA + Soundboard (engineer: Jiwoo Han)>>Roland R-26>2x24bit/48kHz WAV>Adobe Audition CS 5.5 (adjust levels, align, mix down)>Izotope Ozone 5 (mild HPF, tube exciter)>Audacity 3.0 (set fades, tracking, amplify, balance, downsample)>FLAC ( level 8 )
Tracks [Total Time 54:47]
01 Eighth Avenue
02 The Right Profession
03 Friends of Friends
04 [new song 1] Going Out
05 Betty Wang
06 Nightingale [new]
07 [banter1]
08 Experience [new]
09 Liberal Arts
10 Sleepover
11 Julie
12 The Drift>
13 Monkey
14 All Day Today
15 Half An Apple
16 [banter2]
17 Argonauts
If you email nyctaper for access to this recording, we expect that you will PLEASE SUPPORT Hospitality, visit their Facebook page, visit their artist page at Merge's website, and purchase their debut album from the Merge Records website [HERE]