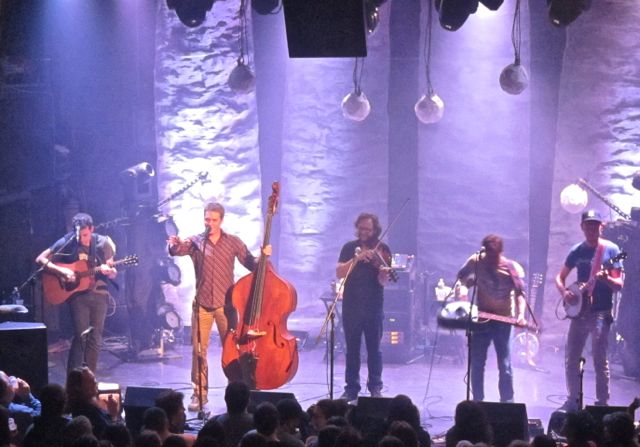 [Photos by acidjack]

Bluegrass music was born in Appalachia, far from Boston where the founders of The Infamous Stringdusters first got together. Many of the genre's original players and adherents weren't professionally educated in music, either – if they were educated at all. The Stringdusters were, but don't let their skill with their instruments or their professionalism fool you – they are keeping bluegrass alive in the best of ways, paying homage to the past while moving the music into the 21st century. This Bowery Ballroom show was a homecoming for some of the band members who call New York home, and it felt like one, with the band members relaxed but on point as they delivered a nearly two and a half hour set of material from their latest record, Silver Sky, as well as wide-ranging covers that included the Police's "Walking On the Moon" (covered on Silver Sky) and Pink Floyd's "Fearless" as well as classic blues and country standards. I had not seen the Stringdusters live before and was kicking myself for taking this long. An evening with these guys makes for an outstanding evening of music.
I recorded this set with MBHO KA500N hypercardiod microphones from the balcony. Fortunately, hi and lo was with me to provide a second source to patch about 7 minutes of the set that were missed when I had an equipment problem.  The sound quality is excellent. Enjoy!
Direct download of the complete show: [MP3] | [FLAC]
You can also stream and download this recording on the Live Music Archive [HERE]
Follow acidjack on twitter
Note: All of the material on this site is offered with artist permission, free to fans, at our expense. The only thing we ask is that you download the material directly from this site, rather than re-posting the direct links or the files on other sites without our permission. Please respect our request.
The Infamous Stringdusters
2012-12-27
Bowery Ballroom
New York, NY USA
Hosted at nyctaper.com
Recorded by acidjack and hi and lo
Produced by acidjack
MBHO KA500N>MBP603>Aerco MP-2>Sony PCM-M10>24bit/44.1kHz WAV>Adobe Audition CS5.5 (combine tracks, patch 7min of missing sound from source #2)>Izotope Ozone 5 (EQ, exciter)>Audacity 3.0 (set fades, light DR compression, tracking, amplify, balance, downsample)>FLAC ( level 8 )
Tracks [Total Time 2:20:31]
Set 1
01 Road to Boulder
02 In God's Country [U2]
03 Get It While You Can
04 The Place That I Call Home
05 Night On the River>
06 Well, Well (w/ "Norwegian Wood" tease)
07 One More Bridge
08 Telluride
09 Like I Do>
10 Up On Cripple Creek [The Band]
11 Black Rock
Set 2
12 Bonaparte's Retreat>Fork Tease
13 Travelin' Teardrop Blues [Del McCoury]>
14 Foggy Mountain Breakdown
15 [banter1]
16 Don't Think Twice, It's Alright [Bob Dylan]
17 No More To Leave You Behind>
18 17 Cents
19 How Far I'd Fall For You
20 A Hundred Years From Now [Elvis Presley]
21 Walking On the Moon [The Police]
22 Deep Ellum Blues [traditional]
23 Long Lonesome Day>
24 I Am A Stranger [Jeremy and Glen Garrett]
25 [banter2]
26 Some Wind
27 Gettin' Down the Road
28 [encore break 1]
29 Fearless [Pink Floyd]
30 [encore break 2]
31 Fork In the Road
If you enjoyed this recording, please support The Infamous Stringdusters, visit their website, and buy their albums in their online store [HERE]