TweetFollow @acidjacknyc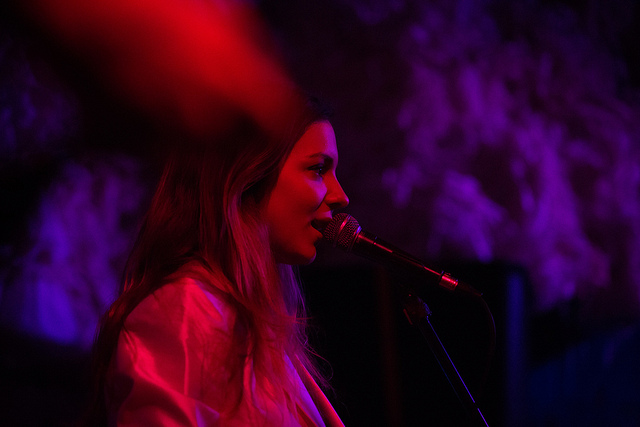 [Photos courtesy of Oresti Tsonopoulos]
While thousands of young artists chose to ply their wares in the marketing-drenched trenches of Austin last Friday, Alexandra Stewart played her first full-band show at Glasslands.  There were no junk food ads or cell-phone chattering PR flacks on hand, no distractions or status-obsessed bullshit. People were there to celebrate music, rather than exploit it. Stewart has a brand-new, well-produced record (Wàbà) to preview.  She chose to do it here, in a place that feels like home, in front of people who actually cared.  In some ways, an artist's choices can matter as much as their art.
As for her performance, Stewart and the band (Chris Pattishall on keys, Austin Vaughn on drums, Jack Hill on bass and Russ Flynn on guitar) evinced none of the first-show jitters that derail early shows, starting this eight-song set as strongly as they finished it.  The focused, effortless groove Stewart lays down with her vocals reminded me at points of artists like Feist and Laetitia Sadier, and her full-band arrangements gave those vocals a lush, engaging backdrop.  Wàbà is named for the little village in Ontario, Canada where Stewart grew up, and her hometown and country figure prominently in her style. If you look at the Pinterest page where she assembled inspirational images for the record, several are the kind of wintry, grey-washed photos one might associate with our colder, less populated neighbor land to the north. But the images aren't bleak; they can inspire hope, or pensive reflection. Stewart's music is much the same, drawing on darkness and light.  Her songs can range from the playful-sounding pop of "Pow Wow" (whose subject matter is shade darker than the song's sound) to the somber "Graveyard", which starts with a spare vocals and keys arrangement until it crests on waves of guitar.  On this night, these and other songs arrived fully formed, delivered with an understated grace and poise that is hard to come by for a first show. Stewart will continue playing more live shows through the year as she looks for a home for the record, and I suspect that if she and the band continue to perform at this level, she will find some takers.
I recorded this set with MBHO microphones placed directly in front of the band to capture the sense of being up front, combined with an excellent soundboard feed of the house mix by engineer Josh Thiel.  The sound is excellent.  Enjoy!
Direct download of the full show: [MP3] | [FLAC]
Stream "Pow Wow":

Stream "Graveyard":

Watch "Soul Like A Ghost" (shot by Oresti Tsonopoulos):

If there are any issues with the links, please email NYCTaper.
Note: All of the material on this site is offered with artist permission, free to fans, at our expense. The only thing we ask is that you download the material directly from this site, rather than re-posting the direct links or the files on other sites without our permission. Please respect our request.
Alexandra Stewart
2013-03-15
Glasslands
Brooklyn NY USA
Exclusive download hosted at nyctaper.com
Recorded and produced by acidjack
MBHO KA200N (onstage, NOS)>Z-PFA>Aerco MP-2 + Soundboard (engineer: Josh Thiel)>>Edirol R-44 [OCM]>2x24bit/48kHZ WAV>Adobe Audition CS 5.5 (effects on soundboard, align, mix down)>Izotope Ozone 5 (light EQ, exciter)>Audacity 3.0 (fades, tracking, amplify, balance, downsample)>FLAC ( level 8 )
Tracks
01 Lone Wolf
02 Pow Wow
03 You Don't Know How
04 Indian Summer [Victor Herbert]
05 Soul Like A Ghost
06 Lullabye
07 Lovesick
08 [band intros]
09 Graveyard
Band:
Alexandra Stewart – Vocals
Chris Pattishall – Keys
Austin Vaughn – Drums
Jack Hill – Bass
Russ Flynn – Guitar
If you enjoyed this recording, PLEASE SUPPORT Alexandra Stewart, like her on Facebook and visit her bandcamp page where you can preview the first five tracks of Wàbà for free.