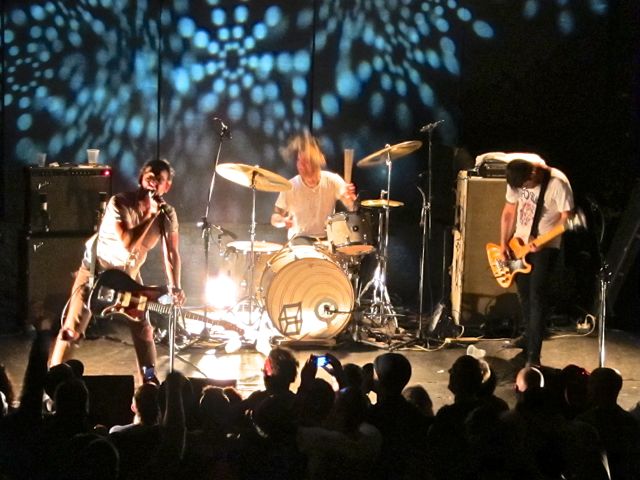 [Photos by acidjack]
METZ lead singer/guitarist Alex Edkins introduced their new song "Can't Understand" as being about "all the totally messed up people in the world". They left the spoken statement at that and then let the music do the talking. Over and over, the screamed refrain of those two words over the incessant backbeat and howling guitars framed, in simplest terms, the way people may have been feeling about recent events. Sometimes the best way of expressing anger is the most direct.
Yes, METZ is one of those Canadian bands that gives the lie to the notion that our neighbors to the north are mild-mannered — there is nothing less than 100% full-bore intense about METZ or their delivery. When bassist Chris Slorach was bleeding badly enough that he needed a metal splint on his nose after three songs, then came out after a couple minutes to finish the set, you knew these guys weren't fucking around.
But don't let all the hardcore noise fool you. Underneath the brutal dynamics are well-crafted songs and strong musicianship; to quote Stuart Berman's excellent review of their self-titled Sub Pop debut last year, "there is a fine to art to taking a music fueled by destructive impulses and building it to last." Much of the front floor of the Bowery Ballroom — and the venue was basically sold out by showtime — may have been too busy moshing to notice, but many of METZ's songs are seriously good, paying tribute to the punk/sludge golden age of the late 80s and early 1990s. Songs like "Sad Pricks" stand up to anything in this genre's canon, and the massive show of support from the NYC crowd — a little less than half a year after a sold-out show at the Knitting Factory — underscored that METZ are the real deal.
I recorded this set with Schoeps MK5 cardiod mics in our usual spot in the venue plus an excellent feed of the house sound from longtime Bowery engineer Kenny. The sound is excellent. Enjoy!
Stream "Sad Pricks"

Stream "Can't Understand"

Direct download of the complete show: [MP3] | [FLAC]
Note: All of the material on this site is offered with artist permission, free to fans, at our expense. The only thing we ask is that you download the material directly from this site, rather than re-posting the direct links or the files on other sites without our permission. Please respect our request.
METZ
2013-04-17
Bowery Ballroom
New York, NY USA
Exclusive download hosted at nyctaper.com
Recorded and produced by acidjack
Schoeps MK5 (cardiod, DIN, slightly LOC)>KCY>Z-PFA>Sound Devices USBPre2 + Soundboard (engineer: Kenny)>>Edirol R-44 [OCM]>Adobe Audition CS 5.5 (adjust levels, mix down)>Izotope Ozone 5 (effects, EQ)>Audacity 3.0 (tracking, fades, amplify, balance, downsample)>FLAC ( level 8 )
Tracks [Total Time 44:51]
01 [new song1]
02 Knife In the Water
03 Negative Space
04 [banter – head injury repair]
05 Get Off
06 Wasted
07 [banter2]
08 Sad Pricks
09 [banter3]
10 Can't Understand
11 Headache
12 Rats
13 The Mule
14 [banter4]
15 Wet Blanket
If you enjoyed this recording, PLEASE SUPPORT METZ, visit their website, and buy their self-titled debut directly from Sub Pop [HERE]