[Photos by acidjack]
The Black Crowes have never been critical darlings. From the beginning of their career in 1989, they were pilloried as too self-consciously "retro" — warmed-over by-the-numbers '70s rock, at best, coupled with a love of self-indulgent jamming that sent Right Thinking Rock Critics (even ones who work for Maxim) running for the hills.
But while critics were busy dissing the band as weak imitators, fans were having none of it, buying tons of albums, packing their shows, and sending their videos (remember those?) into non-stop rotation on MTV. Was it a case of critics being smart and the masses being dumb? That can be the case, sometimes — plenty of bands that suck have huge followings. Still, it's hard — for me, at least — to hear Chris Robinson belting out "She Talks To Angels", or hear the opening chords of "Thorn In My Pride" and not think that maybe the Crowes can be declared fully "classic rock" — without the quotation marks.
The love for the band was on display for two weekend nights of very, very sold out shows at Terminal 5 last week, as the Crowes returned to the stage after their second hiatus. For this show, there was barely an inch to move on any of the venue's three floors as multiple generations of fans came out to watch the band turn T5 into a Saturday night rager. Compared to recent past tours, this set focused more on their first two and best albums, Shake Your Money Maker and The Southern Harmony and Musical Companion.   Having last seen the band myself quite a while ago, I didn't know what to expect. By a couple minutes in to the opening number, "Twice As Hard", I knew the intervening years — filled with strife between the frequently-feuding Robinson brothers, as well as musical up and downs — hadn't taken the vitality of this band down a tick. The band delivered some of the highest-energy songs — "Hard To Handle", "Feelin' Alright" and "Remedy" among them — early, before settling in for an acoustic interlude (with "She Talks To Angels", of course) that led into a full-on thirteen-minute "Thorn in My Pride", which proved to be only the second-longest jam of the night after the band closed out the main set with a seventeen-minute "Wiser Time" filled with twists and turns. The show ended on a mellow note with a cover of Ry Cooder's "Boomer's Story" followed by thunderous applause — the kind earned by hard work, not critical acclaim.
We are offering two separate recordings of this set — first, one with Schoeps MK41 supercardiod mics, as well as a second with MBHO KA200N cardiods, pointed in a tight pattern at the speaker stacks. Give both a listen and see which you prefer — or feel free, of course, to download both. Enjoy!
Stream "Thorn In My Pride" (Schoeps source)

Stream "Boomer's Story [Ry Cooder] (MBHO source)

Direct Download of the Entire Show:
Schoeps source [MP3] | [FLAC]
MBHO source [MP3] | [FLAC]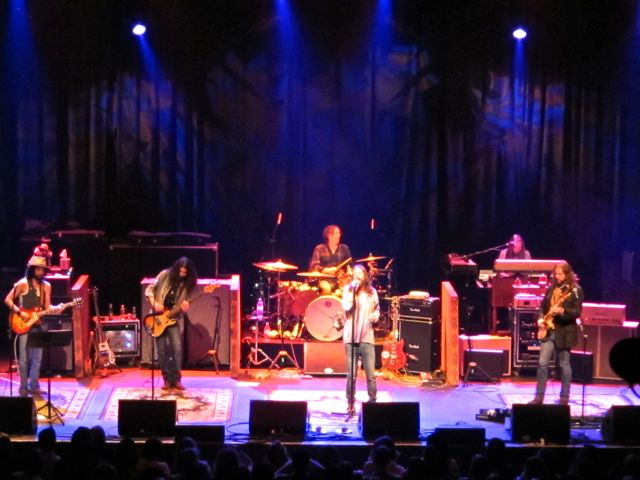 The Black Crowes
2013-04-06
Terminal 5
New York, NY USA
Exclusive download hosted at nyctaper.com
Recorded by hi and lo and acidjack
Produced by acidjack
Schoeps MK41 (Balcony, DFC, DINa)>KCY>Z-PFA>Sound Devices USBPre2>Edirol R-44 [OCM]>24bit/48kHz WAV>Adobe Audition CS5.5 (combine tracks, set fades)>Izotope Ozone 5 (EQ, retro exciter)>Audacity 3.0 (tracking, amplify, balance, downsample, dither)>FLAC ( level 8 )
Tracks [Total Time 2:17:41]
01 Twice As Hard
02 Good Morning Captain
03 Feelin' Alright [Traffic]
04 Remedy
05 Sister Luck
06 She Gave Good Sunflower
07 Another Roadside Tragedy
08 She Talks to Angels
09 [banter1]
10 Whoa Mule
11 Thorn in My Pride
12 Title Song
13 Soul Singing
14 Goodbye Daughters of the Revolution
15 Wiser Time
16 [encore break]
17 Descending
18 Mellow Down Easy [Willie Dixon]
19 Boomer's Story
If you enjoyed this recording, PLEASE SUPPORT The Black Crowes, visit their website, and buy their records from their online store [HERE]