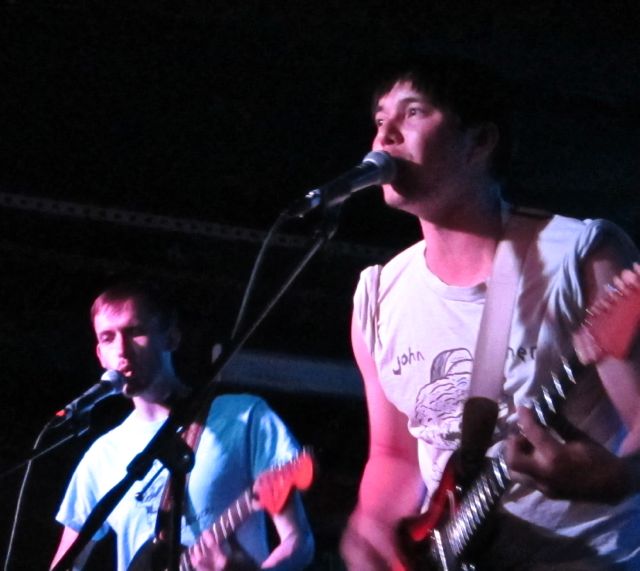 [Photos by acidjack]
It's impossible not to like the Toronto band Hooded Fang, who play a brand of rather American-tinged pop-inflected punk that always draws a crowd, and often a moshpit. While they're just getting their due here in America (this was only their second NYC show), they're actually on their third record, this year's Gravez, which is as concise a burst of infectious new guitar music as I've heard this side of Parquet Courts.
This show at Mercury Lounge matched Hooded Fang up with a diverse cast of U.S. and international acts, including Brooklyn's Pow Wow and Total Slacker as well as Finland's French Films (that recording coming soon). As I expected from listening to the record, the Fang's set put the emphasis solidly on fun, with new tracks like "Ode To Subterrania" delivering a light take on that staple of early-20s slackerdom, living in a basement. My other favorite, "Trasher", echoes mid-to-late 80s postpunk, in roughly the vein of the Pixies, making a nice counterpoint to some of the more straight-ahead rocking tracks. Most of Gravez was played, but the band tore through those songs so fast that it left time for older fare from their second record, Tosta Mista, including the set closer, "Vacationation". Hooded Fang promise to be one of the most exciting bands of their kind to hit the scene this year, and I hope more New York appearances are in the offing.
I recorded this set in my usual manner for the venue, with Schoeps MK41 supercardiod microphones and a soundboard feed provided by longtime Mercury engineer Kevin Mazzarelli. The sound quality is excellent. Enjoy!
Stream "Ode to Subterrania"

Direct download of MP3 files [HERE] | Direct Download of the FLAC files [HERE]
Note: All of the material on this site is offered with artist permission, free to fans, at our expense. The only thing we ask is that you download the material directly from this site, rather than re-posting the direct links or the files on other sites without our permission. Please respect our request.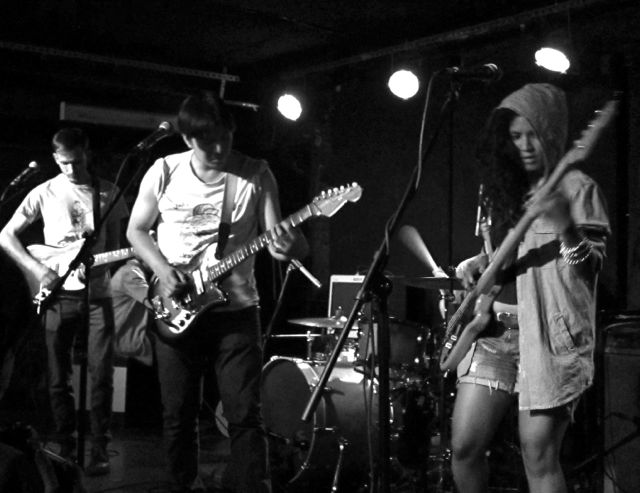 Hooded Fang
2013-06-04
Mercury Lounge
New York, NY USA
Exclusive download hosted at nyctaper.com
Recorded and produced by acidjack
Schoeps MK41>KCY>Z-PFA>Sound Devices USBPre2 + Soundboard >> Edirol R-44 [OCM]>2x24bit/48kHz WAV>Adobe Audition CS 5.5 (align, adjust levels, mix down)>Izotope Ozone 5 (tape effects, EQ)>Audacity 3.0 (fades, tracking, amplify, balance, downsample)>FLAC ( 8 )
Tracks
01 [intro]
02 Graves
03 Ode to Subterrania
04 Bye Bye Land
05 Wasteland
06 [banter1]
07 Clap
08 ESP
09 Sailor Bull
10 Trasher
11 Genes
12 [banter2]
13 Tosta Mista
14 Vacationation
If you enjoyed this recording, PLEASE SUPPORT Hooded Fang by visiting their bandcamp page where you can buy the digital album, or buy the vinyl/CD here.