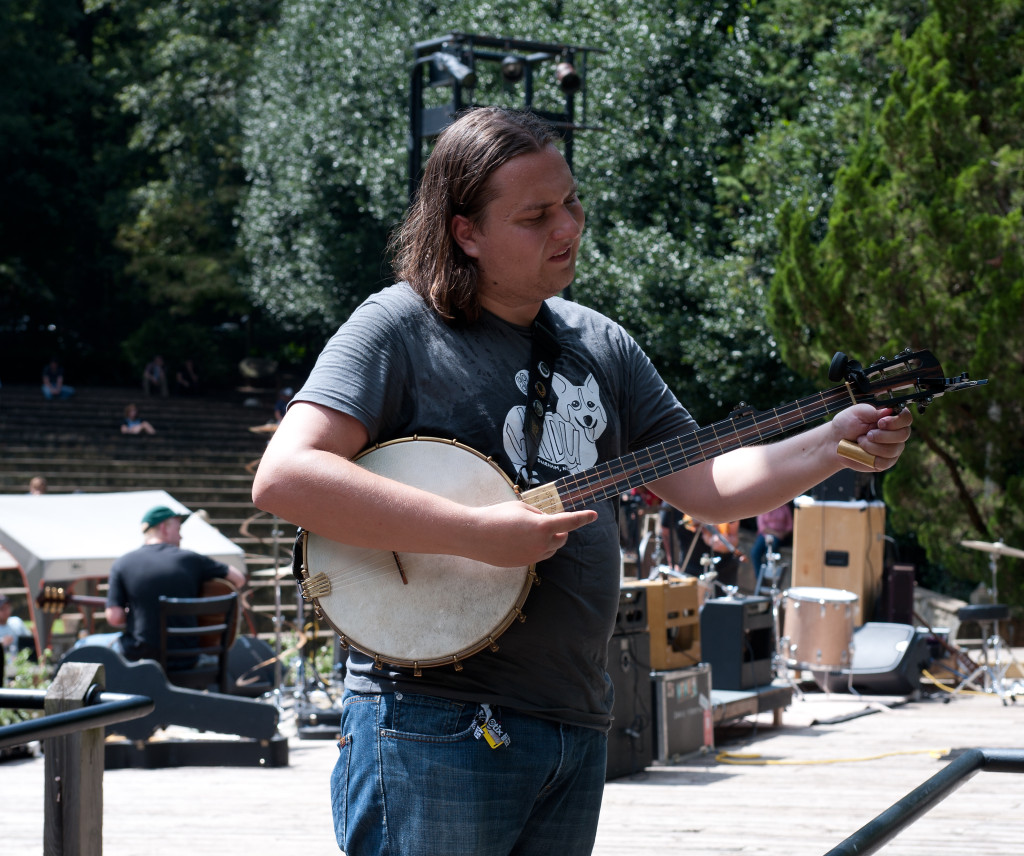 [Photos courtesy of Paradise of Bachelors]
The great folklorist Alan Lomax always feared that the mass culture would destroy regional styles of music, creating an indistinct, homogenized whole with no sense of place. While his thesis hasn't totally been proven wrong, the scope of technology and the fervent interest in music fostered in part by it today allow people to reach beyond their borders to preserve such styles, as well as present them to a wider audience.
Enter the Black Twig Pickers, playing Appalachian old-time music of southwest Virginia the way it's meant to be played. Their music aims to both preserve tradition, as well as expand upon it in ways that distance and lack of technology couldn't in its earlier years. The Twigs are regulars at the Hopscotch Music Festival, having provided tunes for the Three Lobed/WXDU Day Show the past few years, but this year they were also able to join our friends at Paradise of Bachelors for a full set on their lovely outdoor stage.
The Twigs have had a great year so far, releasing both their excellent Rough Carpenters LP along with a split 7″ with Steve Gunn on Thrill Jockey. Carpenters takes the scope of the Twigs' music a little farther afield in the Appalachian tradition, bringing in new regional influences and showing more emphasis on dance numbers. This set began in transition from the Pelt set moments before, as Pelt members Mike Gangloff and Nathan Bowles segued the outro drone from that set into the traditional bluegrass number "Dan Friend's Piece". From there, we got a short and sweet frolic through the Twigs' catalog, including "Old Christmas Morning" and "Rough Carpenters" from Rough Carpenters. At a festival that featured everything from black metal to electronically composed ambient music, this was an opportunity to take a brief step back in time to honor a tradition whose influence, even as it has morphed and change, well exceeded its original borders or its original players' wildest intentions. Were he still alive, Lomax might see a show like this, and find comfort yet.
I recorded this set in the same manner as the other sets at this show, and the sound quality is excellent. Enjoy!
Stream "Rough Carpenters

Download the complete show: [MP3] | [FLAC]
Note: All of the material on this site is offered with artist permission, free to fans, at our expense. The only thing we ask is that you download the material directly from this site, rather than re-posting the direct links or the files on other sites without our permission. Please respect our request.
Black Twig Pickers
2013-09-07
Paradise of Bachelors / WXYC Day Show
Louise "Scottie" Stephenson Amphitheatre
Raleigh, NC USA
Schoeps MK4V>KC5>CMC6 + Soundboard>>Edirol R-44 [Oade Concert Mod]>2x24bit/48kHz WAV>Adobe Audition CS 5.5 (mix down, adjustments)>Izotope Ozone 5 (EQ)>Audacity 2.03 (tracking, fades, amplify, balance, downsample)>FLAC ( level 8 )
Tracks
01 Dan Friend's Piece
02 The Route
03 [tuning/banter]
04 Rough Carpenters
05 [tuning]
06 Brushy Fork of John's Creek
07 Old Christmas Morning
08 Merry Mountain Hoedown
If you enjoyed this recording, PLEASE SUPPORT the Black Twig Pickers, visit their website, like them on Facebook, and buy Rough Carpenters and their other releases from Thrill Jockey.