[Photos by acidjack]
You don't have to violate Lou Barlow's privacy (the way some people did) to figure out the inspiration for Sebadoh's first record in 14 years, Defend Yourself. The details are right there in the lyrics, laid bare and sharply observed for all to see. It's a deeply personal work, the new record. And also, it's a new Sebadoh record. While the band did some "reunion" shows over the past few years — including an outstanding Maxwell's show we saw back in 2011 — it is a treat to see current members Barlow, Jason Loewenstein and Bob D'Amico back on the road with new songs in their arsenal, looking forward rather than looking back. Their new tour for Defend Yourself began this Friday night at Bowery Ballroom, where a sold-out crowd sent them off on their mini-tour of the East Coast, Canada and Midwest.
After a measured start (where much tuning was promised), this sprawling hour-and-a-half-plus set delivered over and over, from the a cappella opening bars of "I Will" from Defend Yourself to "Freed Pig" from III. If Defend Yourself has a bit of a glossier sheen compared to the band's lo-fi beginnings (or even Harmacy), on the stage that's all stripped away. New songs like "State of Mine" (streaming below) integrated perfectly with old favorites like "Soul and Fire" and "Forced Love". As more of their contemporaries come out of retirement to play the hits, it was a good and right thing to see Sebadoh prove they have juice to carry them into the future. If anything, Sebadoh have reached that glorious, comfortable place where they can afford to keep it loose, where the know the fans actually want to be there for 100 minutes' worth of twenty-six songs that they'll give their full attention. At this point it's not just about whether there is another sold-out show or getting good reviews. This band has their fan base, and they keep earning their good graces. At this point, they can enjoy the beauty of the ride, and we can hope it continues.
I recorded this set with Schoeps MK4V cardiod microphones and an excellent soundboard feed from house engineer Kenny. The sound quality is outstanding. Enjoy!
Sebadoh will be on tour for several more dates in November. Go see them.
Stream "Brand New Love"

Stream "State of Mine"

Download the complete show: [MP3] | [FLAC]
Note: All of the material on this site is offered with artist permission, free to fans, at our expense. The only thing we ask is that you download the material directly from this site, rather than re-posting the direct links or the files on other sites without our permission. Please respect our request.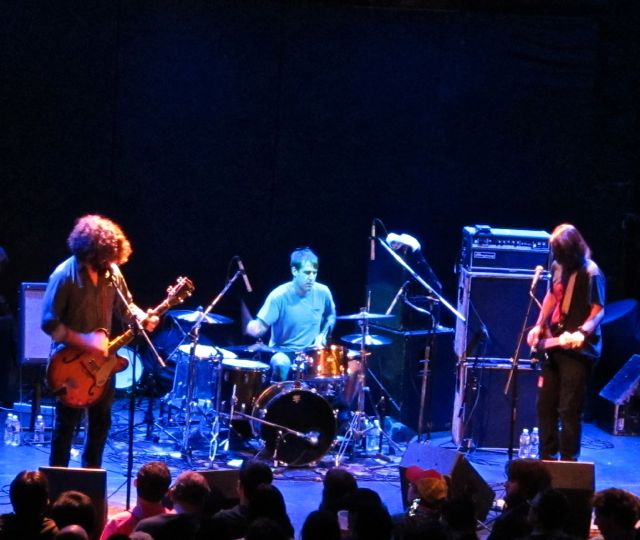 Sebadoh
2013-11-01
Bowery Ballroom
New York, NY USA
Exclusive download hosted at nyctaper.com
Recorded and produced by acidjack
Schoeps MK4V (PAS)>KCY>Z-PFA>Sound Devices USBPre2 + Soundboard (engineer: Kenny)>>Edirol R-44 [OCM]>2x24bit/48kHz WAV>Adobe Audition CS 5.5 (mix down)>Izotope Ozone 5 (EQ, effects)>Audacity 2.0.3 (fades, tracking, amplify, balance, downsample, dither)>FLAC ( level 8 )
Tracks [Total Time: 1:41:58]
01 [Lou Welcome]
02 I Will
03 [tuning1]
04 Oxygen
05 [tuning2]
06 Drama Mine
07 Mind Reader
08 Shit Soup
09 Love to Fight
10 Careful
11 [banter1]
12 Magnet's Coil
13 Rebound
14 Ocean
15 Arbitrary High
16 On Fire
17 [banter2]
18 Bird in the Hand
19 Final Days
20 My Drugs
21 Drag Down
22 [tuning3]
23 Keep the Boy Alive
24 State of Mine
25 Beauty of the Ride
26 Forced Love
27 [tuning4]
28 Soul And Fire
29 [encore break]
30 Ride the Darker Wave
31 Brand New Love *
32 [banter3]
33 Skull
34 The Freed Pig
If you enjoyed this recording, PLEASE SUPPORT Sebadoh, visit their website, and buy their official releases, including Defend Yourself, [HERE]