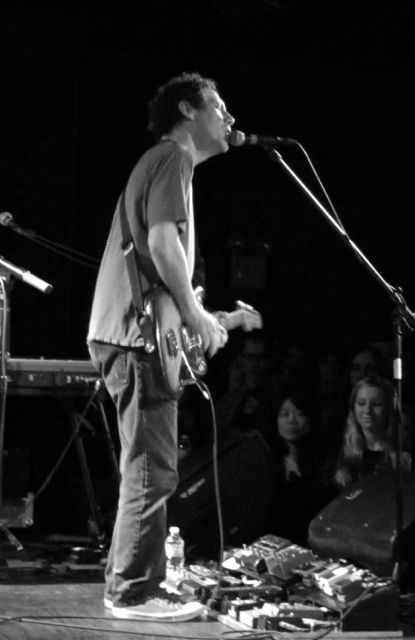 [photos by acidjack]
Yo La Tengo are such an embarrassment of riches, it is hard to know where to begin, or what to be said that hasn't been said in our many reviews of them before. As we reached the penultimate night of the band's four-night stand at Bell House, we had already seen four sets, two encores and over five hours of their music. But that much Yo La Tengo doesn't get old. There's always some new trick up their collective sleeve, or something old that they supercharge with added emotion, a new arrangement, or just a flat-out great performance.
For me, on this night, it was the electric-set closer "I Heard You Looking". The electric set always closes out with one of their guitar freakout sprawlers, and this was the one I most wanted to hear. The version at last year's Hanukkah show had been outstanding, to the point that I thought it might be impossible to top, but the level of intensity displayed by Ira, writhing as he wrung noise out of his guitar at the peak of the number, might have done it. The wordless song speaks volumes, from its wistful opening chords to the climax that expands in all directions. It never ceases to be a thing of beauty, but this version stood out even still.
We didn't get any special guests on this snowy Sunday night, save all-purpose band associate Joe Puleo joining on "I Heard You Looking", but for the encore, in addition to "Moby Octopad", we got three covers that have only been brought out a few times on this tour. The three songs — the Who's "Disguises", the Only One's "The Whole of the Law" and Sun Ra's "Somebody's In Love" — provided a neat survey of the band's eclecticism. With one night left to close out 2013, we couldn't wait to see what came next. Stay tuned.
I recorded this set with a soundboard feed provided by longtime engineer Mark Luecke, plus Schoeps MK4V cardiod microphones. The sound quality is excellent. Enjoy!
Stream "From Black to Blue" from the acoustic set:

Stream "I Heard You Looking" from the electric set:

Download the complete show [MP3] or [MP3] | [FLAC] (Note: One MP3 file set name has a typo, but is right files)
Please notify us if the MP3 links are not working. If you just can't wait, you could always try downloading and converting the FLAC with xAct (Mac) or Free Studio Manager.

Note: All of the material on this site is offered with artist permission, free to fans, at our expense. The only thing we ask is that you download the material directly from this site, rather than re-posting the direct links or the files on other sites without our permission. Please respect our request.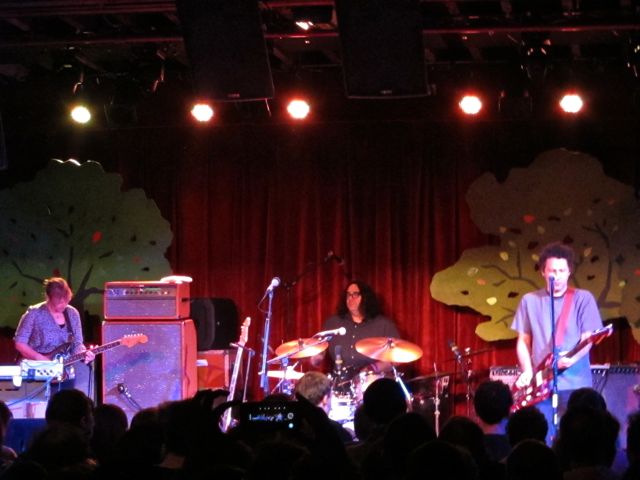 Yo La Tengo
2013-12-15
The Bell House
Brooklyn, NY USA
Exclusive download hosted at nyctaper.com
Recorded and produced by acidjack
Soundboard (engineer: Mark Luecke) + Schoeps MK4V (at SBD, PAS)>KC5>CMC6>Sound Devices USBPre2 + Soundboard (engineer: Mark)>>Edirol R-44 [OCM]>2x24bit/48kHz WAV>Adobe Audition CS 5.5 (noise reduction on acoustic SBD, mix down)>Izotope Ozone 5 (EQ, effects)>Audacity 2.0.3 (fades, compression on acoustic set, tracking, amplify, balance, downsample, dither)>FLAC ( level 8 )
Setlist courtesy of Jesse Jarnow
Tracks
Set One (acoustic) [Total Time: 45:15]
01 Ohm
02 Two Trains
03 Shadows
04 From Black to Blue
05 How To Make A Baby Elephant Float
06 [banter1]
07 The Point of It
08 Cornelia and Jane
09 I'll Be Around
10 Can't Forget
11 Tom Courtenay (Georgia on vocals)
Set Two (electric) [Total Time: 1:47:06]
12 Cherry Chapstick
13 [false start]
14 Is That Enough?
15 Super Kiwi
16 Upside Down
17 Mr. Tough
18 Before We Run
19 Nothing to Hide
20 Sugarcube
21 Ohm
22 I Heard You Looking
23 [encore break]
24 Moby Octopad
25 Disguises [The Who]
26 [banter2]
27 The Whole of the Law [The Only Ones]
28 Somebody's In Love [Sun Ra]
* with Joe Puleo on Ace Tone
If you download this recording from NYCTaper, PLEASE SUPPORT Yo La Tengo, visit their website, and purchase their latest album Fade and its related special releases from Matador Records [HERE].