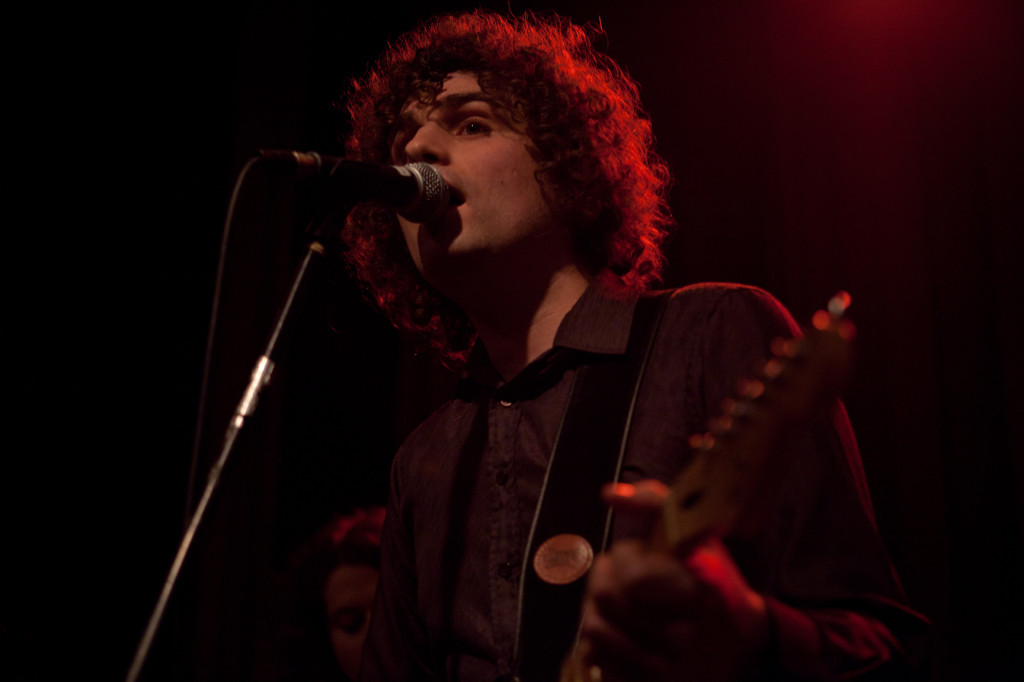 [Video stills courtesy of Bleary Eyed Brooklyn]
We have followed Vincent Cacchione, the frontman and principal songwriter behind Caged Animals, for a few years now, beginning with his more straight-ahead rock n' roll project, Soft Black. While Caged Animals is a different beast than that band we first saw back in the summer of 2010, what hasn't changed are Cacchione's songwriting instincts. The man can write hooks as well as anybody in Brooklyn, and his flair for that, coupled with his knack for inventive arrangements, makes any of his music something we want to see.
This show at Union Pool celebrated the release of the band's second full-length LP, In the Land of Giants, a concept album that strikes an uplifting note compared to Cacchione's Soft Black material. As he puts it on the leadoff track, "Too Much Dark", there's too much dark, and not enough light, but on this record, Cacchione helps lead us to it. The band played the album straight through in front of a tight-knit group of family, friends and longtime friends, and it showed in their relaxed, confident presence. My personal highlight was "Cindy + Me", an uptempo number built around a sample from composer, pianist and technologist Raymond Scott. The song offered an emotional high point for a year rapidly drawing to a close and, it being a Cacchione joint, it was catchy as hell. The band will be in Europe and the UK this month and next — tour dates here. If you make it, you'll be sure to leave with a smile on your face.
I recorded this set with a soundboard feed from Union Pool engineer Robert, plus Schoeps MK4V microphones providing ambiance. The sound quality is excellent. Enjoy!
Watch for video of this set on Bleary Eyed Brooklyn soon.
Stream "Cindy + Me"

Download the complete show [MP3] | [FLAC]
Note: All of the material on this site is offered with artist permission, free to fans, at our expense. The only thing we ask is that you download the material directly from this site, rather than re-posting the direct links or the files on other sites without our permission. Please respect our request.
Caged Animals
2013-12-11
Union Pool
Brooklyn, NY USA
Exclusive download hosted at nyctaper.com
Recorded and produced by acidjack
Soundboard (engineer: Robert) + Schoeps MK4V (PAS)>KCY>Z-PFA>Roland R-26>2x24bit/48kHz WAV>Adobe Audition CS 5.5 (mix down, edits to SBD)>Izotope Ozone 5 (EQ, effects)>Audacity 2.0.5 (fades, tracking, amplify, balance, downsample)>FLAC ( level 8 )
Tracks
01 [intro]
02 Too Much Dark
03 [false start]
04 Stop Hurting Each Other
05 Cindy + Me
06 The Sound of Thunder
07 U + Yr Rocketship
08 The Mute + The Mindreader
09 Tiny Sounds
10 We're Playing With Fire
11 A Psychic Lasso
12 In the Land of Giants
13 (You're A Giant Now)
14 What You're Looking For
If you enjoyed this recording, please support Caged Animals, visit their website, and buy In the Land of Giants directly from the band at their bandcamp page.