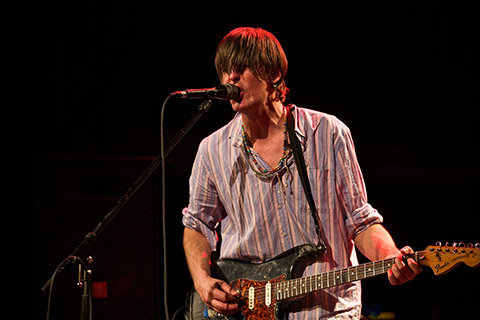 [Photos by PSquared Photography]
Rising from the late-90's hiatus of indie rock standard bearer Pavement, Stephen Malkmus & The Jicks picked up that flag and are still running like hell with it.  Quite successfully, I might add.  With a string of critically lauded albums under their belt, Malkmus and company are still the gold standard for the genre.  On top of that, their live shows are spoken about in revered tones and on the must-see lists of stalwart fans.  Having been a late devotee of Malkmus' various projects, it seemed only fitting that my first Jicks concert be at the venue where they had their official live debut over a decade ago.  The first of two sold out nights in the NYC-area, the band hit the stage with all cylinders firing, in great form, and with an eager crowd thrilled to hear every note.  Playing the bulk of their celebrated new record, 'Wig Out at Jagbags', they had plenty of room to cover songs from nearly all the previous albums, and even snuck in Pavement's "Father to a Sister of Thought".  I'd say if there was one complaint I had by the end of the evening, it was that I hadn't the foresight to get tickets for the following night.  I guess there's always next time.
In our regular spot next to the mixing board in the balcony, we would be hard pressed to have better sound.  Dialed in beautifully, the mix was about as good as it gets at Bowery Ballroom and we were able to pull a wonderful recording with our microphones.  Enjoy!
Stream "Lariat":

Stream "Baby C'mon":

Direct download of the complete show in MP3 [HERE]
Direct download of the complete show in FLAC [HERE]
If any of the links are no longer working, email nyctaper with a request for the download location of the files.
Follow Johnny Fried Chicken Boy on Twitter
Note: All of the material on this site is offered with artist permission, free to fans, at our expense.  The only thing we ask is that you download the material directly from this site, rather than re-posting the direct links or the files on other sites without our permission.  Please respect our request.
Stephen Malkmus & The Jicks
Wednesday, February 26, 2014
Bowery Ballroom
New York, NY, USA
Source: AUD > Milab VM-44 Links (cardioid) > Edirol R-44 (WAV @ 24-bit/48kHz)
Lineage: R-44 > PC > Adobe Audition (mixdown, downsample, dither, tracking) > WAV (16-bit/44.1kHz) > TLH (check/fix SBE's, FLAC conversion) > FLAC ( level 8 )
Recorded and produced by: Johnny Fried Chicken Boy
SETLIST:
[Total time: 1:17:20]
01. [intro]
02. Chartjunk
03. Scattegories
04. Lariat
05. No One Is (As I Are Be)
06. Brain Gallop
07. Rumble at the Rainbo
08. Shibboleth
09. Cinnamon and Lesbians
10. Out of Reaches
11. [banter]
12. Tigers
13. [banter]
14. Vanessa from Queens
15. [banter]
16. The Janitor Revealed
17. Houston Hades
18. J Smoov
19. Baby C'mon
20. Surreal Teenagers
21. [encore break / banter]
22. Father to a Sister of Thought  [Pavement]
23. Kite in a Closet
If you download this recording, we expect that you will PLEASE SUPPORT Stephen Malkmus & The Jicks, visit their website, visit their Facebook and MySpace pages, and purchase their official releases and merchandise [HERE], at Amazon and at iTunes.