Follow @acidjacknyc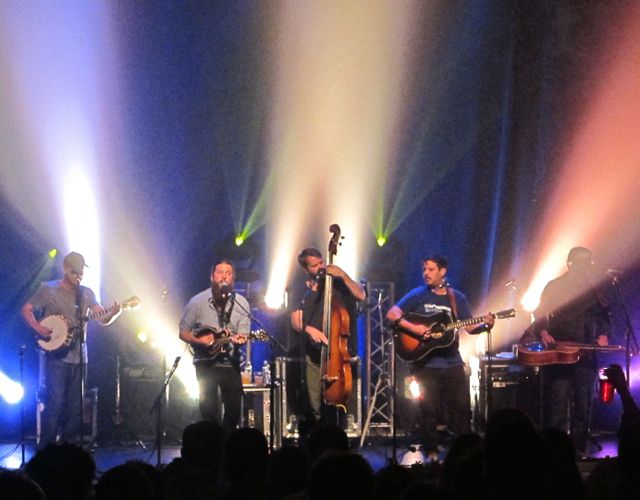 [photos by acidjack]
As was pointed out in our previous review of Greensky Bluegrass, not a ton of bluegrass makes it onto this site, despite the growing popularity of the "newgrass" genre that has spread around the country, but especially in its heartland. We have had a few since then — the Infamous Stringdusters and North Carolina's Chatham County Line — but the genre remains outside of our main focus. So, it was something a bit different to brave a Saturday night crowd for Greensky at the Gramercy Theatre, a comfortable and nice-sounding venue that nonetheless has been as foreign to this site as bluegrass itself. Well, we can hope that changes, too.
Greensky showed up at Gramercy ready and pumped for a full house clearly drinking for the weekend, as their crowds are wont to do. The band has a new album just out, If Sorrows Swim, and shared a good chunk of it. These two sets ran nice and Saturday-night long, bookended between the two by an extended cover of Prince's "When Doves Cry" followed by an exploratory take on "Don't Lie" from their 2011 record Handguns. The band were exactly as Michigan-nice as you'd expect, grateful to be there, bantering amiably with the crowd, and giving generously to the crowd. If anything, their set gave us good evidence of how this classic American genre can be tweaked to appeal to a modern audience, and it deserves the attention it has received, with these guys at the forefront.
I recorded this set with Schoeps MK41 supercardiod microphones at the soundboard, as high as they would go, pointed at the stacks. Despite a chatty Saturday night crowd, these narrow-patterned mics avoided that and provided gobs of direct sound. The result is excellent. Enjoy!
Download the complete show: [MP3] | [FLAC]
Stream the complete show from the Live Music Archive:


Greensky Bluegrass
2014-09-13
Gramercy Theatre
New York, NY USA
Hosted at nyctaper.com
Recorded and produced by acidjack
Schoeps MK41 (at SBD, DFC, PAS)>KCY>Z-PFA>Sound Devices USBPre2>Edirol R-44 [OCM]>24bit/48kHz WAV>Izotope Ozone 5 (EQ, effects, image)>Audacity 2.0.3 (fades, tracking, amplify, balance, downsample, dither)>FLAC ( level 8 )
Tracks [Total Time: 2:23:19]
Set One
01 [intro]
02 Burn Them
03 The Four
04 Lose My Way
05 Wheel Hoss
06 [banter1]
07 Reverend
08 Kerosene
09 3-3-4-4-3
10 Worried About the Weather
11 [banter2]
12 Jaywalking
13 When Doves Cry [Prince]
Set 2
14 [intro jam]
15 Don't Lie
16 I'd Probably Kill You
17 Send Me Your Address From Heaven
18 Dustbowl
19 Windshield
20 Shape I'm In
21 [banter3]
22 Old Barns
23 Clinch Mountain Backstep
24 Leap Year
25 [encore break]
26 Atlantic City
If you enjoyed this recording, PLEASE SUPPORT Greensky Bluegrass, visit their website, and order If Sorrows Swim and buy their other records in their store.